Boxer's uncle lands sickening sucker punch on opponent after illegal KO disqualification (VIDEO)
Published time: 22 May, 2017 14:46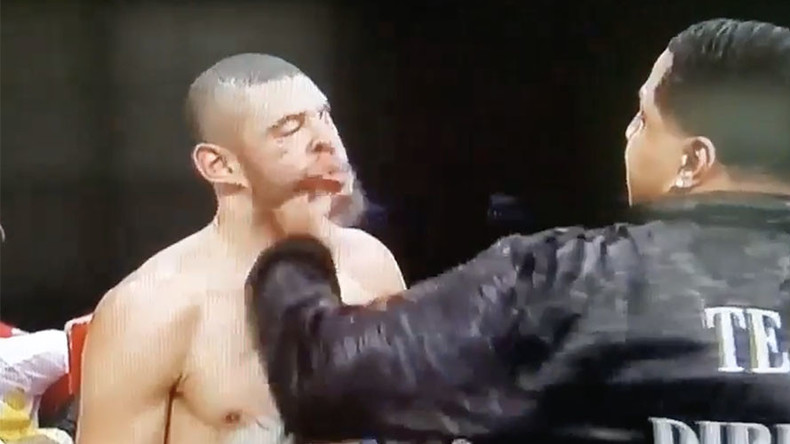 This is the sickening moment a boxer's uncle landed a stinging sucker punch on an opponent in revenge for the fighter flooring his nephew with an illegal late punch.
Leon Lawson, uncle of US boxer Andre Dirrell, swung a cheap hook onto the jaw of Venezuela's Jose Uzcategui moments after Dirrell was knocked out by a punch which came after the bell during their interim IBF super middleweight title at the MGM National Harbor in Maryland on Saturday night.
As the fight neared the end of the eighth round, Uzcategui launched a three-punch combination, the first catching Dirrell, 33, on the chin and sending him sagging into the ropes.
The second also found its target, but the third and final blow that sent Dirrell crashing face-first to the canvas was adjudged to have landed after the bell sounded to end the round.
Referee Bill Clancy then ruled that the stricken Dirrell was unable to continue and swiftly disqualified Uzcategui, whose record subsequently moved to 26 wins and two losses.
A melee ensued that included Andre's brother Anthony, a former world champion, becoming involved in a physical altercation with ringside security.
As Dirrell is receiving treatment by ringside doctors, the brothers' uncle Leon Lawson, wearing a black jacket with 'Team Dirrell' emblazoned on the back, is seen at first calmly speaking with Uzcategui's corner.
Without warning, Lawson then unleashes a left hook onto the boxer's chin. In slow motion, the cheap shot can be seen to twist Uzcategui's head and grotesquely distort the boxer's facial expression.
Further punches are thrown by Lawson at Uzcategui, but they are thankfully prevented from landing by the fighter's corner and Uzcategui's defense – as the 26-year-old almost instantaneously regains his senses.
Lawson then escaped after the incident and Uzcategui was taken to the local trauma center, where he was released shortly afterwards. According to a report telecast on US fight broadcaster Showtime by ringside reporter Jim Gray, police said they were searching for Lawson and that he would be arrested when found.
Dirrell told Gray in his post-fight interview that he forgives Uzcategui for his actions and also apologized for his uncle's actions.
"I didn't want to win a championship like this, I wanted to win it the right way. I didn't get an opportunity to do like I said before, I forgive Jose Uzcategui, I forgive his camp. Jesus knows he didn't do that on purpose," the American said.
"I'm sorry for what my coach has done. My coach is my family, my uncle, and he was worried. He cares for me. He loves me. Please forgive him. I'm going to stand up like a man. I didn't win like I wanted to, but I'll be back," he added, according to ESPN's Dan Rafael.
It is not the first time Dirrell has won a fight by way of disqualification after being felled by a late punch. In 2010 during his bout with Arthur Abraham, as part of the Super Six tournament, the American was punched after he slipped and fell on a wet canvas.
In January, another super middleweight, Swede Badou Jack, nearly decked referee Arthur Mercante Jr during his title unification clash with Briton James DeGale.
READ MORE: James DeGale & Badou Jack end their battle of Brooklyn in grueling draw
The Dirrell-Uzcategui matchup featured on the undercard of the Gary Russell Jr vs Oscar Escandon WBC featherweight title fight, which Russell Jr won by seventh round stoppage.