James DeGale & Badou Jack end their battle of Brooklyn in grueling draw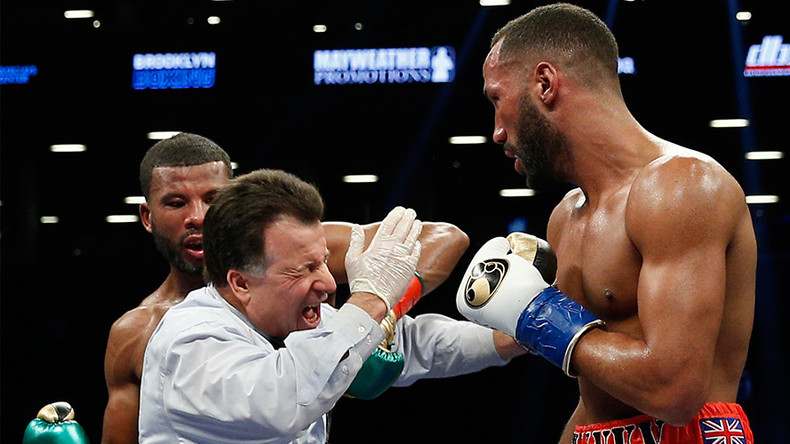 The world super-middleweight unification title fight between Briton James DeGale and Swede Badou Jack ended in a hard-fought draw at the Barclays Center in New York City.
DeGale and Jack, who are rated as the two best in their division, were putting their respective IBF and WBC titles on the line in the fight in Brooklyn.
A night of high-octane drama preceded the main fight: on the undercard, there was a shock upset and a new champion crowned. Virtually unknown middleweight fighter Immanuwel Aleem dropped and then pummeled Ukraine's Ievgen Khytrov, stopping the former Olympian in the sixth round.
In the chief supporting bout, hot prospect Gervonta Davis forced a technical knockout of IBF super featherweight champion Jose Pedraza. The 22-year-old Mayweather Promotions-backed Davis announced himself on the world stage with a glorious assault of Pedraza to smash the Puerto Rican's unbeaten record.
READ MORE: Manny Pacquiao offered summer 2017 fight in Russia - promoter Bob Arum

Then came the main event. Davis' Mayweather promotion stablemate Jack, who is now living in Las Vegas after moving back from his native Sweden, was aiming to beat Britain's 2008 Olympic Gold Medal winner, James DeGale.
DeGale started off stronger and sat Jack on the seat of his camouflage trunks in the opening round with a short, stabbing straight left to the chin. Jack got up unhurt, however, and took the mandatory eight count before seeing out the rest of the round. Despite Jack gathering his senses, DeGale continued his early assault in the early rounds to establish himself as the early leader.
By Round 5, the action had slowed, but heated up again just as the bell rang. Just moments after the sound to end the session, Badou Jack threw a left hook that missed a ducking DeGale, but connected with the chin of referee Arthur Mercante Jr., who was attempting to separate the two fighters.
"You better knock him out now!" Mercante joked with Jack in his corner during the round break, having been sent flying and then caught from falling by the Swede in one fell swoop.
Much of the action through the middle of the fight saw momentum switching between the two fighters. Jack began to come on strong and use his natural weight advantage to tire out DeGale, whereas the Londoner responded with blistering hand speed, showing no signs of letting up in the face of sapping body shots from Jack.
On at least two occasions, DeGale lost his mouthpiece, which forced a doctor's inspection for cuts inside of his mouth, and once again to check his balance, owing to the mouse that had begun protruding under his right eye. It was later reported that he lost a tooth in the exchanges fought without his gumshield.
Going into the championship rounds, the two fighters showed tremendous heart, keeping up a scorching pace. DeGale's early lead had been cut by a relentless walking down from Jack, who could sense his opponent tiring. However, DeGale's natural fitness and fleet-of-foot, honed in his local ballet schools in North London, managed to keep him out of harm's way.
That was until the 12th and final round, when Jack landed a chopping left hook that caught his man on the side of the head. A delayed reaction saw DeGale backtrack until his legs gave out from under him and he fell to the ground exhausted. Jack stood over his fallen victim with an assured stare to let him know that there was more to come should he arise.
And he did, shakily rising to his feet. Jack went on the attack looking for the late stoppage, but DeGale refused to hold on and fired back, though he had ultimately lost the round.
As the bell sounded, the crowd in the Barclays Center saluted the two warriors and the decision was left up to the ringside judges. One judge scored the bout 114-112 for DeGale. The remaining two were identical at 113-113, meaning the bout was scored a majority draw and both fighters kept their belts.
"He was doing a lot of running. He was throwing a lot of shots on my guard. I thought I won the fight," said Jack in a post-fight interview with ShowTime's Jim Gray. "I finished stronger. His knockdown was a flash knockdown. No excuses," he said.
"I was off balance when he got me!" interjected an always lively DeGale. "Don't listen to this rubbish. Listen I've got huge respect for this man. He showed he's tough, he's durable, he's skillful – you the man! I thought I won," he said.
"By the way, look at my teeth," said DeGale, pointing at his missing denture in a nod to his opponent's toughness. "[I'm a] soldier, soldier. Don't worry I'm still pretty. I threw the cleaner shots I was moving my feet picking his head off. Listen let's do it again. Let's do it again," he said.
DeGale implored Jack to come to London to fight him on his own turf, but that might hamper Jack's plans to move up to light-heavyweight and challenge pound-for-pound superstar Andre Ward. That would suit DeGale's fellow Brit Callum Smith, who is next in line to fight for the WBC, should it be vacant.
Jack's promoter, Floyd Mayweather Jr., who himself has offers to enter the ring versus MMA fighter Conor McGregor, said Jack would move up.
"Badou Jack has gotten too big for the 168 pound [division]. He have plans on moving up to light heavyweight," he said.
You can share this story on social media: