Concussed cyclist narrowly avoids deadly collision with riders on Tour of California (VIDEO)
Published time: 16 May, 2017 18:09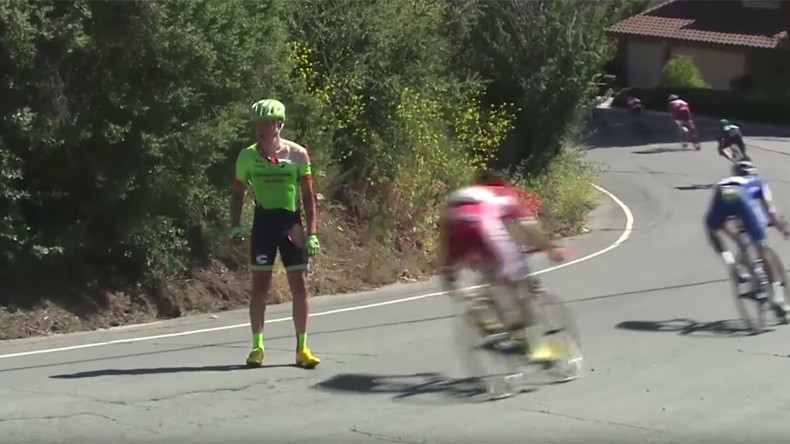 This is the moment concussed cyclist Toms Skujins comes within inches of a deadly high speed collision with oncoming riders after falling on the Tour of California on Monday.
Video footage of the crash shows Latvian Skujins tumble violently to the ground while approaching a bend on a decline during the race.
Skujins gingerly makes it to his feet and is assisted onto by a race official before attempting to ride off again. However, a shaky Skujins falls almost face first in the middle off the road within moments of taking off.
As the confused rider stumbles on unsteady legs to retrieve a piece of his equipment from the road, he narrowly avoids being struck by the passing peloton - the main pack of riders - passing at high speed.
Skujins, who rides for team Cannondale-Drapac, suffered concussion and broke his collar bone in the fall and will now miss the rest of the Tour.
Cannondale-Drapac sports director Tom Southam told BBC Sport: "Toms' crash obviously had a huge impact on us today. It was a high-speed crash and unfortunately it happened at a time when the race was fragmented, which delays information and makes these situations extremely hard.
"Toms instinctively continued riding but it was clear that he couldn't go on. It's a blow for the team and for his own ambitions but that was a serious fall, and racing can take a back seat while he heals," he added.
Skujins did take time out of his hospital visit to post a light-hearted tweet of featuring a picture of himself with the caption: "I would never suggest getting in a fight with tarmac because you will [lose]."