Confederations Cup is 'final hurdle' before World Cup, it's a dream for any player – Ronaldinho
Football icon Ronaldinho visited Kazan, Russia, over the weekend to open the Confederations Cup park within the walls of the city's Kremlin. Despite a busy schedule, the 'Barcelona' ambassador found time to answer questions from RT.
During the interview, the Brazilian talked about his friendship with former coach Frank Rijkaard and fondly recalled the beginning of Lionel Messi's career.
RT: Here we are in Kazan – one of the 2017 Confederations Cup host cities. How do you like it here?
Ronaldinho: I came here yesterday and haven't had a chance to see much so far, but I see a lot of people outside. I took part in some events here at the local stadium. The stadium looks really good, I think it's ready to host Confederations Cup games.
RT: What do you think of Russian football? It's usually criticized due on and off-field problems with discipline and a different calendar to European leagues. Do you think the Russian national team will be competitive?
Ronaldinho: Yes, I think so. There are some good players in the team. I've been told that the team is rather young and there are no big names yet, but they shouldn't disappoint.
RT: Talking about your childhood, did you think back then you would become a world football star?
Ronaldinho: No, when I was seven it was hard for me to imagine all the things that would happen to me… It was always my dream to play football professionally, I just didn't think it was going to happen back then. But when I was about 12 or 13, I decided to dedicate my life to it.
RT: In 1997 you played in the FIFA U-17 World Cup and won an individual award, causing European clubs to take note of you and earning you a move to Paris Saint-Germain. What can you say about that period of your career?
Ronaldinho: It was wonderful. Paris is an amazing, beautiful city. I love it a lot. I was fortunate to begin with this club which had great players in the team like [Jay-Jay] Okocha, [Nicolas] Anelka, and many more. I learned a lot playing with them. It was the perfect start for my career.
RT: In 2003 you signed with Barcelona, then managed by Frank Rijkaard. You always said that he gave you a lot of freedom on the field. Do you think if you'd had a different coach back then, your career would have gone in a different direction?
Ronaldinho: He was the best coach for me and a great friend. He's a wonderful person and a great professional. What can be better than a coach that gives you freedom on the field? He didn't give it just to me, but to many other players on the team. It was a great time in my career.
RT: How important was it for you to have a good relationship with your teammates?
Ronaldinho: Sometimes you are just friends on the field, and sometimes you are friends off it. I've been lucky to play alongside my friends. Our coach was my friend, as I said. I'm still friends with Thiago Motta, Deco and [Carles] Puyol.
RT: Do you remember what happened on November 17, 2005?
Ronaldinho: I'm not too good with dates…
RT: It was the first and probably the only time when a single [Barcelona] player has been applauded at the Santiago Bernabeu after an 'El Clasico' match. You scored two goals in that game. Do you remember that moment?
Ronaldinho: Now I realize, it makes me happy. But back then I didn't even think about it. I was so focused on the game and you don't realize certain things when you are that focused. Then some years later you look back and realize that it was an historic moment. Not every player gets to experience that, it makes me proud.
RT: You scored some of the most memorable goals in world football, and performed tricks it seemed only you could – the Champions League goal against Chelsea at Stamford Bridge and the famous pass off your back at the Nou Camp, to name just two examples. Would it be possible for you to pick just one goal as your favorite from your glittering list?
Ronaldinho: I can't pick only one. I've played football all my life. I remember the time when I played futsal in Brazil, then for Gremio, then for PSG, AC Milan, Atletico Mineiro, and in Mexico. I thank God that I've been lucky to score so many goals. I don't know if a lot of them were beautiful, but some of them definitely were.
RT: The FIFA 2017 Confederations Cup starts on June 17. Unfortunately, Brazil won't be taking part. In recent times we haven't seen the kind of Brazil we are used to, although it seems with Tite as head coach, the situation is improving.
Ronaldinho: Yes, it's getting better. We did well in the Rio 2016 Olympic Games and we're playing well now. I think that our change of coach was a positive one. We have some good players and hopefully will achieve the results our fans hope for.
Read more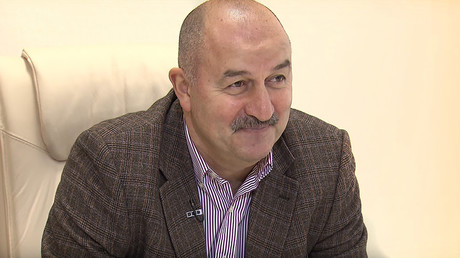 RT: You came to Spain after Romario, Rivaldo and Ronaldo – all Brazilian former Barcelona players. That was the era of so-called Jogo Bonito [Portuguese for 'Beautiful Game,' Jogo Bonito utilizes a smaller ball, goals and teams to improve technical ability]. How would you rate their legacy in Spanish football?
Ronaldinho: They were very talented players from an era of talented players. I would even say 'historic.' They became part of football history in Spain. I've been lucky enough to play alongside legends of Brazilian football. When I came to Barcelona, I felt a lot of responsibility, because I came after Romario, Ronaldo and Rivaldo, and I had to match their level.
RT: They're called 'The Three Rs' and Kaka, right?
Ronaldinho: I don't remember any other case when four players that all have officially been crowned the best player in the world at some point were playing together. Me, Rivaldo, Ronaldo and Kaka – we did. That was another historic moment of my career. I'm really glad I was part of it.
RT: Brazil are five-time World Cup winners and have won the Confederations Cup four times. What does it take to win a tournament like the Confederations Cup?
Ronaldinho: I think teams playing in the 2017 Confederations Cup will be really motivated because the [players in the] winning team will gain a guaranteed spot at the 2018 World Cup, so it's an important tournament. It's the final hurdle before the World Cup and it's obviously a dream for any player to perform at the World Cup.
RT: Speaking of the World Cup, it's not yet clear whether we'll see Argentina in Russia in 2018. You played together with Argentina captain Lionel Messi. What memories do you have about that period of your career?
Ronaldinho: He's always been a quality, talented player. I'm always proud to talk about him because I've known him since he was a kid. I've always followed his career and I know his dad quite well and his family.
RT: And Neymar – some call him the 'new Ronaldinho' but he says he doesn't like being compared to you, as you are his idol.
Ronaldinho: He consistently proves he's a player of the very highest level, but I also don't like this sort of comparing. I think he should be himself. And not only because he is Brazilian or he is my friend, but because I truly believe he deserves it with the level he shows. Messi is still at the top, so it won't be easy, but he has a chance.
RT: You're still a part of Barcelona, but now as a club ambassador. How do you like this role?
Ronaldinho: I didn't expect to become one, to be honest. But I'm really happy and proud that despite being relatively young, I represent that club as an ambassador. Ever since I left the team people have been asking me about Barcelona and I always talked about it. So I guess I'll keep doing what I've been doing. I also took part in a Barcelona legends match. It was great. I really want to keep doing that.