French rugby league player knocks out referee after being yellow-carded (VIDEO)
Published time: 28 Apr, 2017 13:25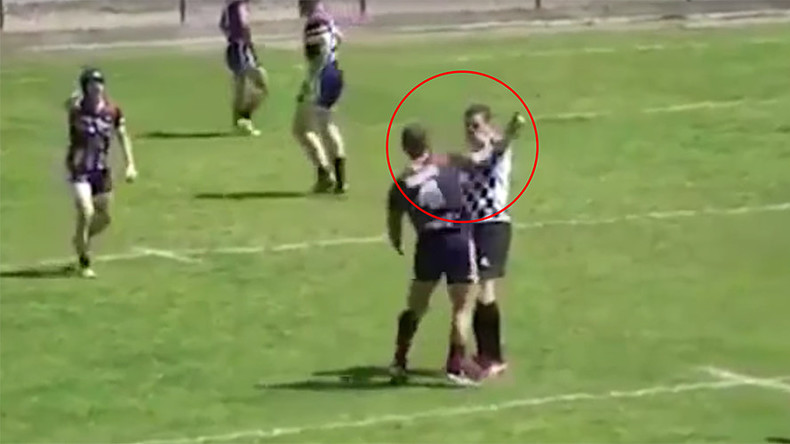 This is the sickening moment a French rugby league player knocked out a referee after being yellow carded during a juniors French Cup match between Saint-Esteve and Toulouse.
Video footage shows referee Benjamin Casty showing a Saint-Esteve player a yellow card - which under rugby league rules suspends a player from the field of play for 10 minutes and is known colloquially as a 'sin bin.'
But instead of leaving the pitch, the player confronts the referee, before landing a huge blow to the offical's right jaw which sends him crashing to the ground unconscious.
The most disgraceful thing I have ever seen on a rugby field. You won't be needing boots again for life that is mate. Life ban Booom! pic.twitter.com/xNQ0SEplwc

— Allan Donald (@AllanDonald33) April 28, 2017
After punching the referee, the player can also be seen brawling with opposition players - one of whom tackles him to the ground - before walking off the field.
Referee Casty, whose brother Remi plays for Super League club Catalan Dragons, was taken to hospital but avoided a broken jaw, the Independent reported.
The Saint-Esteve player, who is as yet unidentified, is now facing a possible lifetime ban from the sport.
READ MORE: Armed Croatian hooligan invades pitch in bid to attack referee (VIDEO)
French Rugby League Federation president Marc Palanques promised strong action in response.
"I hope that the National Disciplinary Commission, which will meet on Wednesday, will be uncompromising," he said.