Dynamo Kiev fans wear KKK outfits, swastikas in 'white frenzy' display intended for UEFA official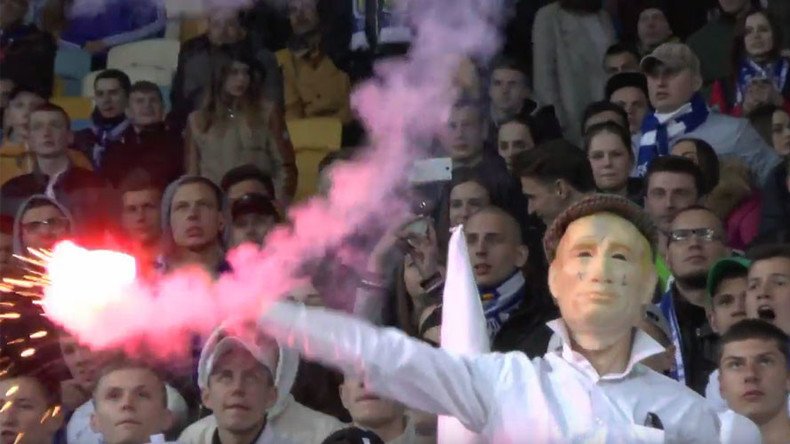 Dynamo Kiev fans took to wearing outfits of white supremacist group the Ku Klux Klan (KKK) and masks bearing swastikas to welcome a visiting UEFA inspector in their home match versus fierce rivals Shakhtar Donetsk on Friday.
Dynamo 'ultras' called for those attending the game to arrive at the club's Olimpiyskiy National Sports Complex stadium dressed in white – the colour of the club's home strip – calling the action "white frenzy," Ria Novosti reported.
Some fans attended the match dressed in costumes similar to traditional KKK dress, characterized by white hoods with eyeholes and masks adorned with hand-drawn swastikas and pyrotechnics.
Throughout the match, both sets of fans lit flares and threw them at fellow spectators. Ukrainian journalist Oleksii Bratushchak, writing for Ukrainska Pravda, reported that ultras planned the disorder after match organizers pleaded with supporters to refrain from instigating provocation or bringing pyrotechnics to the stadium due to the presence of a UEFA inspector.
The inspector was in attendance to survey the readiness of Olimpiyskiy to host the 2018 UEFA Champions League final, scheduled to take place at the venue next May.
Fans taking part in the action also wore white masks and some completely bandaged their faces.
It's not the first time Dynamo fans have been photographed in KKK clothing. In 2013, snaps emerged of them posing in KKK outfits with a Confederate flag in front of the Shakhtar team bus.
The Shakhtar squad at the time featured many black players.
More recently, Dynamo also hit the headlines when a group of their fans were filmed brutally attacking four black supporters in the stands during a home Champions League match with English Premier League side Chelsea in 2015.
UEFA subsequently charged the club with racist behavior.
Dynamo have also been vocal in their support of Ukrainian international Roman Zozulya, who was denied a loan move to Spanish side Rayo Vallecano from parent club Real Betis after reports emerged of his alleged links to neo-Nazi movements in Ukraine.
READ MORE: Spanish team refuse Ukrainian footballer loan after fans protest 'neo-Nazi links'
Supporters were pictured with a banner saying "Roma, we are with you" at an away match against FC Zorya Lugansk.
Dynamo lost Saturday's game against Shakhtar 1-0, and remain 14 points behind the Ukrainian Premier League leaders in second spot.
You can share this story on social media: