US Olympic champ banned for year after missing drugs test while at Obama meeting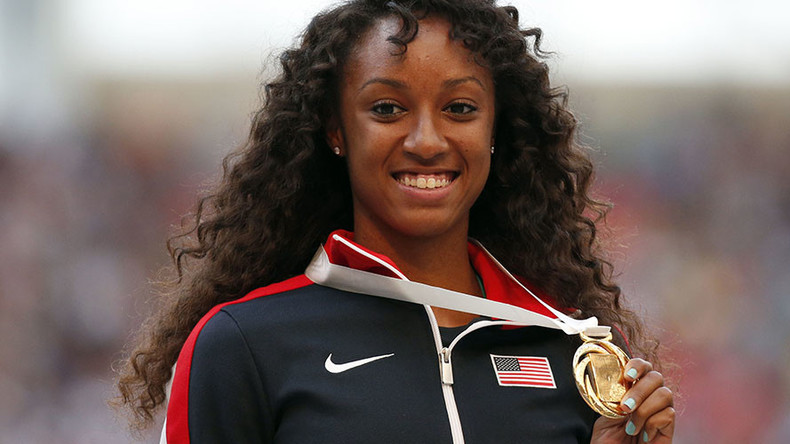 Olympic gold medalist Brianna Rollins has been banned for a year for missing three drugs test in 2016, one of which while she was meeting former US President Barack Obama at the White House.
Rollins, who was 2016 Rio Olympic champion in the 100m hurdles event, missed another drugs test which came when she celebrated 'Brianna Rollins Day' in Florida, the state from which she hails.
The sprinter was handed the ban by the United States Anti-Doping Agency (USADA), which issued a 12-month sanction for failing to properly file whereabouts information following a hearing with the American Arbitration Association.
READ MORE: US distance runner cleared of doping after 'contaminated meat' defense
The 25-year-old issued a heartfelt apology in a post on Instagram.
"I accept full responsibility for the mistakes that led to my suspension, and I am disappointed that I will have to miss this coming outdoor season, as a result of my confusion over how the whereabouts system worked.
"I have always been a supporter of Usada and their fight to keep our sport clean, and I will continue to do my part to prove that success can be achieved without shortcuts.
"This is a very unpleasant experience, but I am able to see where errors were made. I will accept the sanction and prepare myself for my return in 2018.
"And I am sorry to anyone that I may have let down and to my sponser [sic] nike. No trial has overtaken you that is not faced by others.
"And God is faithful: He will not let you be tried beyond what you are able to bear, but with the trial will also provide a way out so that you may be able to endure it," she added.
READ MORE: IAAF clears 7 Russian athletes to compete under neutral flag
USADA said Rollins failed to provide whereabouts to the International Association of Athletics Federations (IAAF) for being unavailable for testing on April 27, 2016. Later in the year, Rollins received another Whereabouts Failure notice from USADA for not being available for testing on September 13, 2016.
Her third Whereabouts Failure from the IAAF was for not being available for testing on September 27, 2016, making it three failures in a 12-month period.