'Most intense' fight is set for Moscow return at ACB 57
Published time: 7 Apr, 2017 18:56
Edited time: 7 Apr, 2017 20:36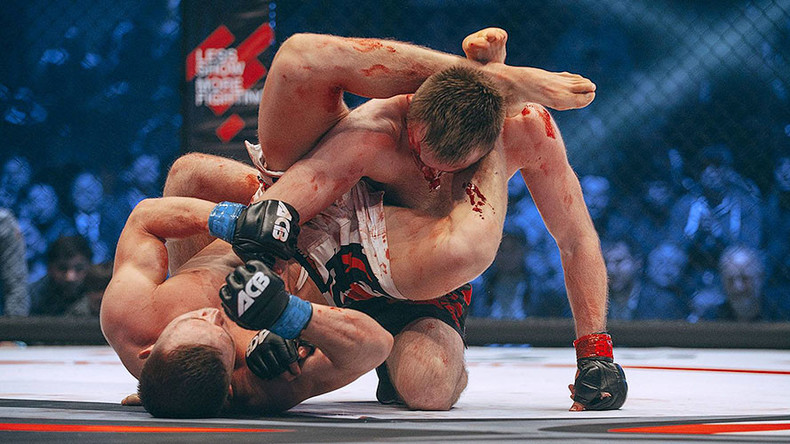 When young Russian MMA prospects Petr Yan and Magomed Magomedov met in the cage for the first time, their names were known only to a few specialists. But what they showcased in that bout has elevated them to superstar level in Russian Mixed Martial Arts.
The first bout between Petr 'No Mercy' Yan from the Siberian city of Omsk and Magomed 'Tiger' Magomedov from Dagestan which was a bantamweight title fight at ACB 32 event in Moscow on March 26 last year, has produced a lasting effect.
The dramatic fight between two equally-skilled athletes brought everything that MMA has to offer: vicious strikes and knee hits, stunning ground and pound, spinning moves and the art of wrestling.
Despite the fight being extremely close, Magomedov claimed victory largely due to the yellow card Yan received just seconds before the end of the final round for headbutting.
ACB president Mairbek Khasiev stepped into the cage right after the fight to say it had been one of the best MMA bouts he'd ever seen.
Speaking at the ACB 57 media day last Sunday, Khasiev reiterated this belief, saying: "That was the best and the most intense fight in ACB history so far, although there were a few more bouts that were really close to it in terms of the skill level."
Canadian MMA analyst Robin Black, who specializes in pre-fight and technique breakdowns, also recently gave his expertise on the Yan-Magomedov first bout in two separate videos titled 'Winning Conditions', talking about the key to victory for both fighters based on their first encounter.
PETR YAN
MAGOMED MAGOMEDOV
"Their first fight was a masterpiece, the second one is going to be awesome," says Black in the breakdown video.
The pair will meet again in the ACB 57 main event in Moscow on April 15. The ACB 57 card will also be packed with other top Russian MMA talent, including ex-Bellator fighters Vyacheslav Vasilevsky and Alexander Sarnavskiy, who will face Ibragim Chuzhigaev and Eduard Vartanyan respectively.
The rest of the card will provide 9 evenly-matched fights, following ACB's motto of "less show, more fighting."
ACB 57 MAIN CARD
1. Ukinori Akazava (Japan) – Ramazan Kuramagomedov (Russia) - Welterweight
2. David Cubas (Peru) – Rustam Asuev (Russia) - Featherweight
3. Alexander Peduson (Russia) – Rasul Ediev(Russia) - Featherweight
4. Maxim Futin (Russia) – Isa Umarov (Russia) - Lightheavyweight
5. Akop Stepanyan (Russia) – Mohamed Kokov (Russia) - Featherweight
6. Matheus Mattos (Brazil) – Magomed Ginazov (Russia) - Bantamweight
7. Ruslan Abiltarov (Ukraine) – Rasul Albashanov (Russia) - Flyweight
8. Azamat Murzakanov (Russia) – Konstantin Erokhin (Russia) - Lightheavyweight
9. Ustarmagomed Gadzhidaudov (Russia) – Rasul Shovhalov (Russia) - Lightweight
10. Alexander Sarnavskiy (Russia) – Eduard Vartanyan (Russia) - Lightweight
11. Vyacheslav Vasilevskiy (Russia) – Ibrahim Chuzhigaev (Russia) - Middleweight
12. Petr Yan (Russia) – Magomed Magomedov (Russia) - Bantamweight