Swedish football fans protest mask ban in stadiums – by wearing niqabs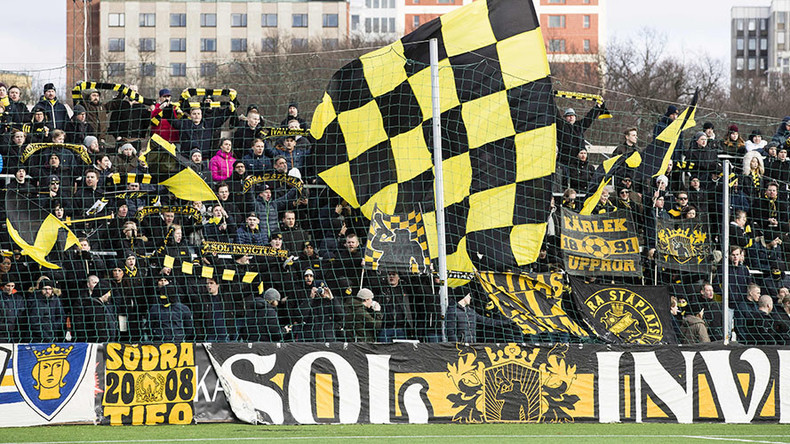 A group of supporters of Swedish football team AIK have protested a new ban on wearing masks at stadiums, exploiting an exception to the ban by wearing niqabs to cover their faces.
On March 1, Sweden banned football fans from covering their faces at sporting venuesto clamp down on violence by masked hooligans, while allowing exceptions for religious reasons.
However, the ban did not include "people who cover their face for religious reasons" or for people wearing masks in the course of their duties, for example firefighters or police, according to the law as approved by parliament.
The legislation sparked uproar among police and supporters alike when it was first introduced. Fans of Stockholm club AIK, who play in the country's top flight, Allsvenskan, took exception to the rule during their season opener against Häcken on Sunday.
READ MORE: Does English football need to blacklist homegrown hooligans from future matches?
The ultras filled the stands of AIK's Friends Arena home stadium, the biggest of its kind in the Nordic area.
A number of ultras wore niqabs to the match at the Friends Arena. The fans held up a banner targeting minister for home affairs Anders Ygeman, who spearheaded the legislation.
"AIK's ultras mean well, we're now wearing masks for religious reasons. Freedom for ultras is the goal, thanks Ygeman for the loophole," the banner read, The Local reported.
"In all honesty, I thought the banner was quite funny. It shows that AIK fans have a bit of humor," said Ygeman, who supports AIK's rivals Djurgården, Aftonbladet reported.
The minister added that courts would be able to make the distinction over whether someone was covering their face because of one of the exceptions to the rule or not.
The ban was introduced in response to previous disorder at Swedish football matches. In August 2016, Östersund goalkeeper Aly Keita was assaulted by a masked pitch invader during a match with Jönköpings Södra.
The CEO of the Swedish Football League has previously dismissed suggestions that it would be difficult for police to make a distinction over whether a mask had been worn for religious reasons or not.
"There has never previously been a problem identifying the difference between someone who has a religious reason to cover their face and someone who is doing so with the intent of committing criminal acts. In practice, it's very clear what the purpose is," Mats Enquist told The Local.
The match between AIK and Häcken finished in a 0-0 draw.