Scottish Muay Thai fighter dies in Thailand attempting to cut weight for fight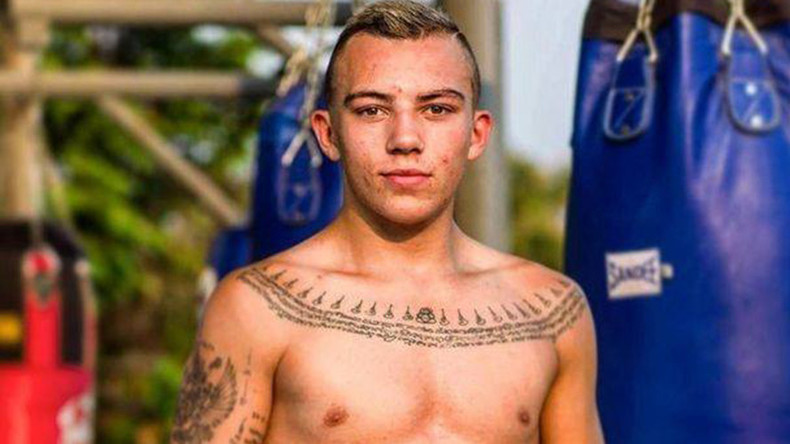 Muay Thai boxer Jordan Coe, 20, from Scotland has died of a suspected heatstroke while trying to make the weight for a bout in Thailand.
Coe died when he went out in a heavy tracksuit while attempting to shed 3kg to make the 61kg weight limit for a bout on Sunday in Bangkok.
The young boxer was found wearing his heavy tracksuit after he left his hotel at 11:30am on Saturday and failed to return, The Bangkok Post reported.
March is the beginning of hot season in Thailand, where humid temperatures can reach as high as 90 degrees Fahrenheit.
Coe who also fought under the ring name 'Jordan Lamnammoon Muay Thai' had moved to Ubon Ratchathani to pursue his dream of becoming a full-time Muay Thai fighter.
READ MORE: 'We were lucky': Boxer decides to fight 24 hours after witnessing Westminster murder
He then planned to return to Scotland in the summer to train at Glasgow Thai Boxing Academy.
Coe was scheduled to meet a Cambodian fighter in the Muang district on Sunday night but tragically would never make it to the ring.
Tributes poured in for the young boxer on social media.
"The Sutai family are truly devastated by the loss of one of our family members today. Jordon Coe was a kind, fun loving young man that inspired many in the world of Muay Thai with his unbelievable talent and passion,"Sutai Muay Thai posted on Facebook.
"Many of us at Sutai Muay Thai were lucky enough to share his journey with him from the beginning of his Muay Thai career and he will always be in our hearts. We love you brother, may you rest in peace."
Craig Floan, his coach at Glasgow Thai Boxing Academy was told about his death in a phone call on Sunday.
"Jordan was found this morning, he died in Thailand and the embassy there think he died from heatstroke," he said, The Telegraph reported.
"He moved to Thailand to chase his dream of becoming a professional after being with me for three-and-a-half years.
"We've set up a fundraiser for him and I'm now trying to help raise enough money to bring him home."
A JustGiving page has been set up in the hope of bringing Jordan's body home and to help his mother Lisa with funeral costs.
At the time of writing, the fundraising campaign had raised over £18,500 ($23,000).
Weight cutting in combat sports has recently been the topic of much debate, with the dangers fighters face even before stepping into the arena being well documented.
Earlier this month, Russian fighter Khabib Nurmagomedov was hospitalized and treated for dehydration while trying to make the 155lbs weight limit for a bout with Tony Ferguson for the UFC interim lightweight title.
READ MORE: Drastic weight cut & stardom pressure: What we know about Khabib's cancelled fight
It was reported that Khabib needed to lose roughly 3kg in as many hours before the official weigh-in for that fight, which was the co-main event at UFC 209.
The Dagestan native was taken to hospital in Las Vegas, Nevada, and the bout was canceled on the doctor's recommendation.
The BBC documentary 'The Weight Cut: Extreme Weight Loss' followed a British MMA fighter cutting weight overnight using saunas and hot baths.
The program concluded that weight cutting could have serious long-term effects on a fighter's health.
You can share this story on social media: