Glamour girls of Nizhny Novgorod play in inaugural 'Beautyball' tournament (PHOTOS)
Published time: 23 Mar, 2017 13:25
Edited time: 30 Mar, 2017 13:15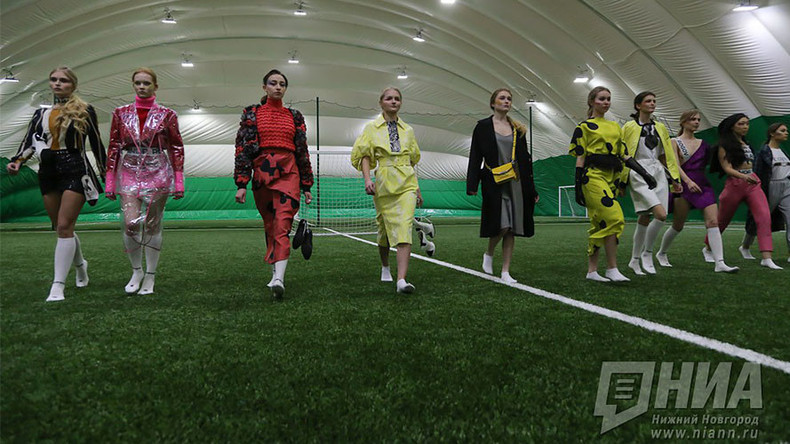 The inaugural match of Beautyball, a brand new version of football played by girls in makeup, was played last weekend as part of the build-up to the Russia 2018 FIFA World Cup.
The first game of the hybrid sport was played at Tennis Park in Nizhny Novgorod, 400km east of Moscow, where 24 of the "most attractive and successful women" in the city made up four teams of six to contest the maiden Beautyball tournament on Sunday.
Tournament organizer Ekaterina Chudakova said that the town's natives wanted to highlight that the World Cup is just around the corner.
"Beauty Ball of course is a made up sport, but long legged girls chasing after the ball on the pitch is eye-catching. For that alone it was worth creating," Chudakova said Russian newspaper Metro reported.
READ MORE: 'Super-cool keepsake!' - FC Rostov reveal commemorative gift from Man Utd boss Mourinho
The rules of Beautyball are the same as in standard football, though the matches were only ten minutes long. Football coach David Kapanadze agreed to lend a helping hand in hosting the competition.
In the tournament, the players entered the field of play accompanied by a parade, wearing makeup and sporting hairstyles and plimsoll shoes.
Members of the players' families cheered the girls on from the stands, and even the governor of the Nizhny Novgorod region, Valery Shantsev, turned out to support the teams.
"I have seen nothing similar recently. Not from a technical point of view, but in terms of determination. How you all rushed for the ball, pushed, despite the fact you like each other.
READ MORE: Miura-cle man: 50yo Japanese footballer breaks record to become oldest scorer in history
"You showed real sporting determination for the goal and the battle for victory," Shantsev said, addressing the players.
Tennis Park, who hosted the tournament, stated in a series of posts on Instagram that the sporting experiment was a huge success.
"The girls played in a sport they created themselves - 'beautyball'. But although the sport is a spoof, the battle for victory was fully real. This fresh new sport is close to football," the post, originally written in Russian, read.
"On the pitch everything was like in regular football: goals, misses, attacks, tackles, penalties, supporters. What could be better than football and girls? Only girls who play Beauty Ball."
The Russia 2018 FIFA World Cup is scheduled to take place from June 15 to June 14, in twelve stadiums across 11 host cities: Moscow, St. Petersburg, Kazan, Sochi, Kaliningrad, Ekaterinburg, Samara, Volgograd, Saransk, Nizhny Novgorod, and Rostov-on-Don.
It will be preceded by the 2017 FIFA Confederations Cup, which will take place between June 17 and July 2. The host cities are Moscow, St Petersburg, Sochi and Kazan.