Khabib v Ferguson not likely to happen before September – Nurmagomedov's coach
Published time: 17 Mar, 2017 13:07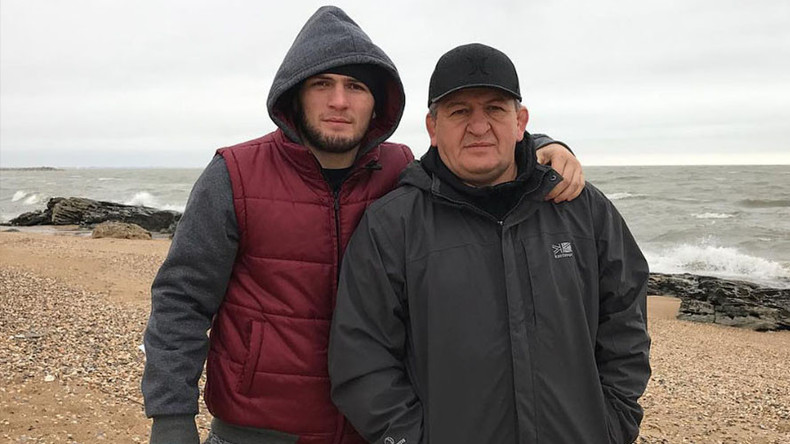 Two weeks after the long-awaited UFC lightweight interim championship bout between Khabib Nurmagomedov and Tony Ferguson was canceled due to the former's hospitalization, the Russian's coach says the bout is unlikely to be rescheduled for this summer.
"Khabib will undergo medical examination in Germany, after which we will be able to understand the dates for the next fight," his father and coach Abdulmanap Nurmagomedov told TASS.
"Our teams will continue the negotiations. A possible date is September."
Although Abdulmanap stressed that there isn't any sort of agreement for the bout.
"There is no agreement, but I do know that it won't happen before Ramadan," he added.
Undefeated UFC lightweight Nurmagomedov is a practicing Muslim and always takes a break during the Holy Month.
During Ramadan, in addition to fasting from dawn until sunset, Muslims also refrain from "sinful behavior" that may negate the reward of fasting, such as false speech (insulting, backbiting, lying, etc.) and – most importantly for Nurmagomedov's case – fighting.
Khabib, has stresses out the importance of his religious beliefs on many occasions.
"For me it is everything," he told RT Sport in November.
"This is not about being a professional athlete, so I have to do this or I have to do that. That is because I am Muslim. That's not about sport."
On March 3, just hours before the official weigh-in for UFC 209, it was reported that Nurmagomedov had been hospitalized the night before after suffering from dehydration during the weight cut before the bout.
READ MORE: Khabib hospitalized due to dehydration; UFC 209 title fight with Ferguson off
It's believed that Khabib's out of the competition weight is about 190lbs (86kg), while he is fighting in the lightweight category, meaning that he has to cut around 35lbs (16kg).
Following the news of hospitalization UFC head, Dana White later put the blame on Khabib's management for making a wrong, last-minute decision.
"His team had decided to take him to just some random hospital in Las Vegas instead of picking up the phone and calling our doctor and calling Brianna [Mattison], who runs all the medicals [for UFC]," White told mmafighting.com.