Yelena Isinbayeva joins new RUSADA supervisory board
Published time: 7 Mar, 2017 13:00
Edited time: 7 Mar, 2017 13:30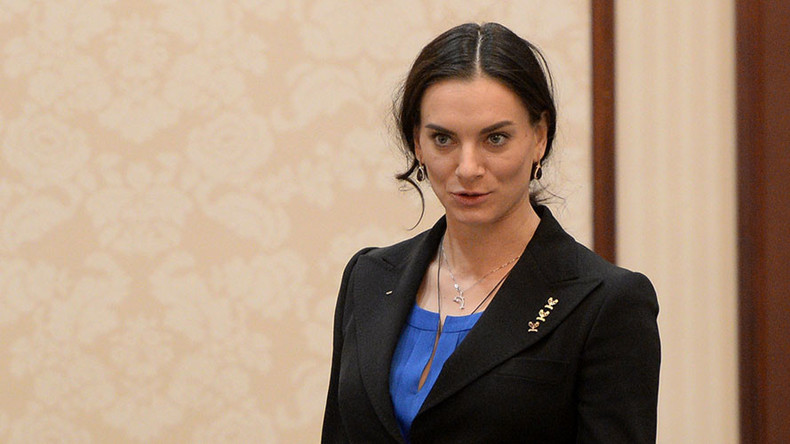 Two-time Olympic pole vault champion Yelena Isinbayeva has joined the newly assembled Russian Anti-Doping Agency (RUSADA) supervisory board, as announced on Tuesday.
"The Russian Olympic Committee (ROC) has nominated Isinbayeva as a member of the RUSADA supervisory board," the head of the ROC's legal department, Alexandra Brilliantova, told TASS.
READ MORE: 'Russian anti-doping program to be presented in March-April' – Russian Olympic chief
After setting 28 world records, collecting two Olympic gold (Athens 2004, Beijing 2008) and one bronze medal (London 2012), Isinbayeva announced her retirement from professional sports last August during the Rio Olympics, where she could not compete due to a blanket ban on the Russian track and field team.
It was also announced on Tuesday that the board will include seven members.
"Until March 9 everything will be formalized, the members will be announced and the board will start its work. Today is the birthday of new RUSADA," the head of the Russian Paralympic Committee, Vladimir Lukin, told TASS.
"The board will work on organizational matters," he added.
In the wake of the Russian doping scandal, in November 2015, the World Anti-Doping Agency (WADA) suspended RUSADA from carrying out doping control within the country, but later provided them with a road map to re-compliance.
Among other things, one of the key points for restoring RUSADA's credibility involved the work of international experts in the agency.
The positions were filled with Australian Peter Nicholson, who specializes in international criminal investigations, and Ieva Lukosiute-Stanikuniene from Lithuania, director of the Lithuanian Anti-Doping Agency and Chair of the Council of Europe Advisory Group on Education.