Vietnamese football team refuses to play in protest at controversial late penalty
Published time: 20 Feb, 2017 17:50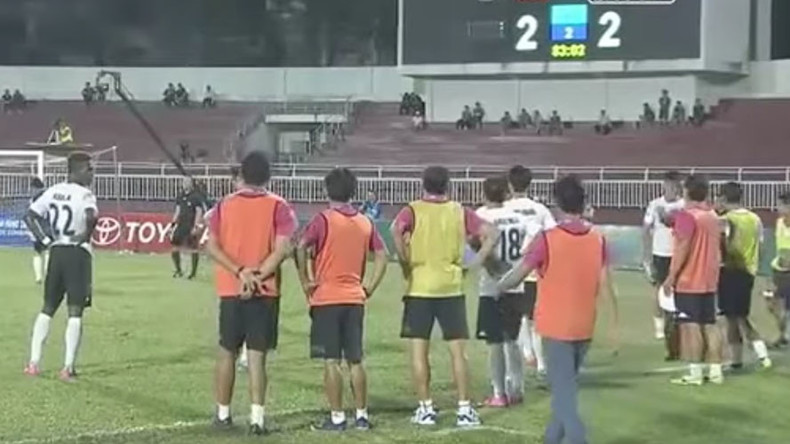 Vietnam's premier division match between Ho Chi Minh City and Long An took a bizarre turn when Long An refused to continue playing in protest against a last-minute penalty on Sunday.
The V.League 1 game between newly-promoted Ho Chi Minh and bottom club Long An at the former's Thong Nhat Stadium was finely poised at 2-2 when, in the final minutes, referee Nguyen Trọng Thu awarded a penalty to the home side.
The penalty was given when a cross into the Long An penalty area saw a coming together between defender Phạm Hoang Lam and Ho Chi Minh's Russian striker Rodion Dyachenko, causing the pair to fall to the ground as Long An goalkeeper Nguyen Minh Nhut collected the ball.
However, the referee adjudged the goalkeeper to have committed a foul and awarded a penalty to the home side, much to the dismay of the An Long players, who protested dramatically before seeming to walk off the pitch.
When order was restored, Argentine striker Victor Ormazábal stepped up to take the kick. Astonishingly, the goalkeeper turned his back on the penalty, and Ormazábal easily made it 3-2 with an uncontested poke into the net in the 90th minute of the match.
When play was resumed from the center circle, the Long An players deliberately gave the ball away, allowing attacker Nguyen Tuan Anh to break away through on goal. As the striker went to shoot, the goalkeeper performed a forward roll to emphasize his thorough discontent.
The same happened just seconds later, this time Dyachenko collecting the ball from the restart and taking his opportunity to score when the goalkeeper raced out of his goal to make it 5-2 to Ho Chi Minh.