Bradley Wiggins pulls out of 'dangerous' TV show with broken leg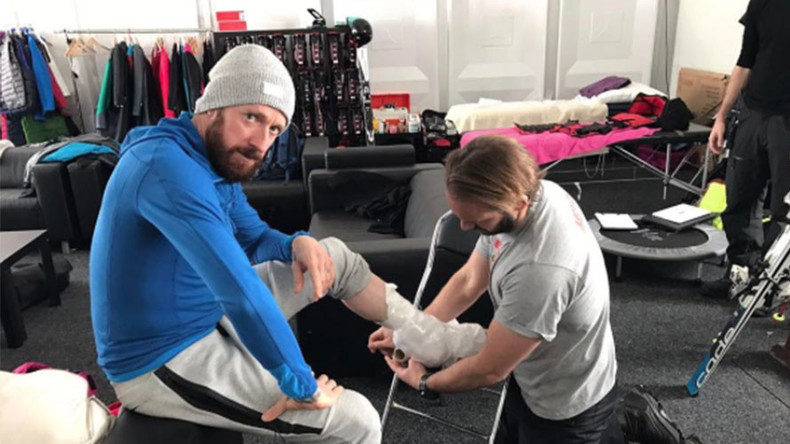 Former Team GB cyclist Bradley Wiggins has been forced to pull out of a sporting television show after breaking his leg during one of the program's events.
READ MORE: Controversial Olympic champion Bradley Wiggins retires from professional cycling
Wiggins was taking part in British celebrity show 'The Jump' when he suffered a small fracture while taking part in snowcross training.
The Tour de France winner said in an Instagram post that the he was "gutted" to be leaving the show but that the injury isn't serious.
"Gutted to be leaving The Jump. I wanted to give you an injury update...‬ ‪Seen a specialist, I have a small leg fracture and need to rest for 3/6 weeks. Good news no surgery or cast required.
‬"No horror smash, small training injury which means I can't compete! Huge thanks to the crew and good luck to all of the cast. Due to the way the show is filmed I'll still be on until show 4, so be sure to tune in to see how I do," he wrote.
It was announced on February 5 that Wiggins would appear on the show with other sporting figures including gymnast Louis Smith, judo star Jade Jones and former footballer Robbie Fowler alongside celebrities competing against one another in winter sporting events such as skiing.
The show has been described as "dangerous" in the British press. British Olympic superstar Wiggins was a surprise addition to the series after only announcing his retirement from cycling last year.
The five-time Olympic champion was the last name confirmed for the show, saying he was convinced to take part by the committed names who had already signed up as well as the opportunity of a new sporting challenge.
"It was a mix of that and the other committed names this year that made me want to sign up," he said.
"Major retiring Olympians such as Sir Steve Redgrave have also trod this path. I see this as a sporting challenge and want to go out there and win it. Just don't call me a celebrity."
Wiggins called time on a 20-year career in December, amid allegations of wrongdoing that cast a shadow on some of his achievements.
According to the Daily Mail, Wiggins missed drug tests in 2005 and 2009; under World Anti-Doping Agency (WADA) rules, any athlete who misses three tests in 12 months can be banned for up to two years.
Wiggins blamed confusion over a flight back from California and the time difference for his absence to explain his whereabouts.
READ MORE: 'This looks very suspicious' – Wiggins' former doctor on British cyclist's drug use
Wiggins was also forced to answer questions about his use of a Therapeutic Use Exemption (TUE) that allowed him to take banned substances to cure a respiratory ailment.
He claimed he never aimed to gain an "unfair advantage" by using the powerful anti-inflammatory drug triamcinolone, insisting it helped to get him "back on a level playing field."
You can share this story on social media: