'Biggest gift for my 30th birthday is getting my sport back': Maria Sharapova (RT EXCLUSIVE)
Five-time Grand Slam winner Maria Sharapova who is set for a comeback to professional tennis in April following her 15-month suspension, spoke exclusively to RT about her forced break as well as her future plans.
READ MORE: 'Couldn't be happier': Maria Sharapova will be back April 26
Not a frequent guest to her homeland, Sharapova visited Moscow on Wednesday to launch her 'Sugarpova' chocolate brand.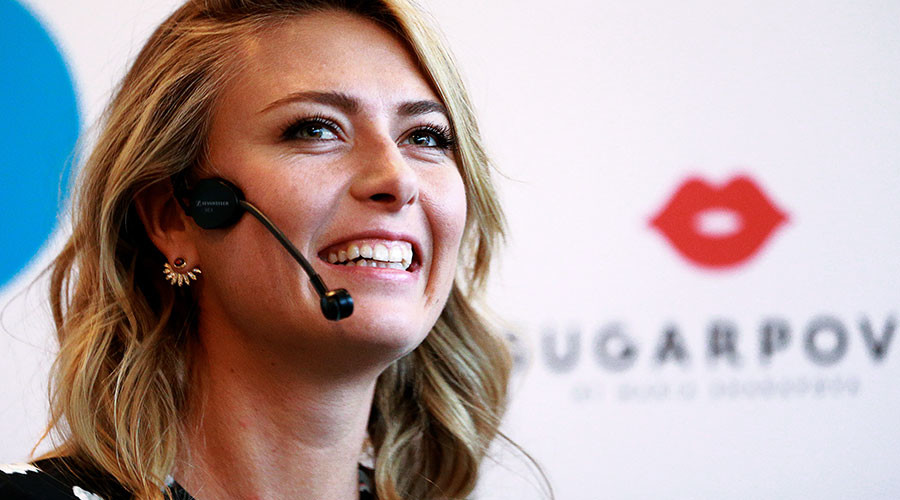 Following the presentation at a supermarket in the Russian capital, RT asked Sharapova whether she has had an opportunity to spend more time with her family during her long break from professional sport.
Maria Sharapova: It's amazing when you think of time going by. You think that 15 month is a long time. But here we are just a couple of months away from my comeback. It feels like I had a simple life in a way which after traveling for so many years and playing so many tournaments, it was a nice break for me personally. It was nice being able to spend holidays with my family. Just to have normal quiet sit down dinner. Not just one night, but like few nights in a row
RT: Did you celebrate the Russian holidays?
MS: We did. We celebrated Russian Christmas (January 7th) few weeks ago.
RT: It's good for presents. Isn't it? You get three holidays in a row.
MS: I know! Although Russian christmas is not about presents. It's about family. So I had to take that into consideration.
RT: You won the Grand Slam, you were a flagbearer for Russia at the Olympics, and a torch bearer at the Winter Olympics. What would you say is your greatest moment of your career?
MS: It gives me the chills. I think being able to be a part of all these things. As an athlete you never know where the road takes you. Not even the accomplishments, but the challenges that you face in your career. If you think of the amount of tournaments that we play. Olympics, even though I've only played one. But a tennis player's career can be so long, and you go through so much. And I've been fortunate to experience a lot of things in my life: victories from a young age, tough matches which I didn't pull through and I ended up losing. There are a lot. Cause that's sport. It's very hard (to tell). But winning all four (Grand Slams) was very very special. I didn't realize how just cool it was until I achieved it and really realized that it's special to be able to win on every surface.
RT: You are also a businesswoman now. Do you remember the moment when you thought "I'm gonna think about my future after tennis"?
MS: I do. I remember reading an article about a football player that had an injury and who no longer could compete in the sport. And they didn't have many options in life. And one of the reasons is because they really think about it while they were playing their sport. And sometimes it's ok to finish your professional career and you are financially capable of not having to compete or do anything for the rest of your life. I just always felt very driven to try things, to explore things, to experience things, to work. I love to work. Most of the time it's not even about the money, it's about trying to figure out the ways in exploring. It's meeting people. It's seeing a concept and bringing it to live. That's very fascinating to me. So I think that passion for trying new things, for not being afraid to fail has really helped me. And it has got me off the couch.
RT: Was it hard for you moving to another country when you were young? Did you speak English at that age?
MS: I didn't when I moved, but I learned so fast cause I was surrounded by the kids that just wouldn't stop talking. I went to a small private school, I had a tutor that would come for a few hour out of the day. But I honestly learned English from fellow students at the tennis academy.
RT: You might have heard of ThePlayersTribune project, where adult athletes write letters to their young selves. If you had an opportunity to send a message to yourself as the 16-year old girl that had just debuted in the WTA Tour, what would that message say?
MS: I would say to never stop learning. When you write a letter to yourself it's almost like your life is over. Do you know what I mean? I am in the process of writing an autobiography right now, which I'm calling a mémoir. They said autobiographies are for when you finish your life or you are towards the end of it. So it's more of a mémoir. But I never thought of this like it is a finishing chapter in my life. It's only a continuation of all the things that have to come. So what I would say is - there is a lot to be thankful for, there is a lot to look forward to. And no matter if you succeed or don't at something that you want to. If you keep working on it you are going to be successful.
RT: Big birthday coming up. You are going to be 30. Any plans to celebrate in a big style? Any particular presents you would like?
MS: To be honest I got my birthday present last year when I knew that I was going to be back playing in April. That was the first thing I said to my family. If there was anything I would have wanted for that birthday, and looking back in those years I would have said you wouldn't even think about it, you would think of all those materialistic things that you wanted, cause I do love gifts, I love giving, I love receiving. That's a little girl in me waking up on christmas morning. But the biggest gift is getting my sport back. Getting to compete on the stage that I've missed for a really long time.
You can share this story on social media: