Spectator killed in accident at Monte Carlo World Rally Championship event (GRAPHIC VIDEO)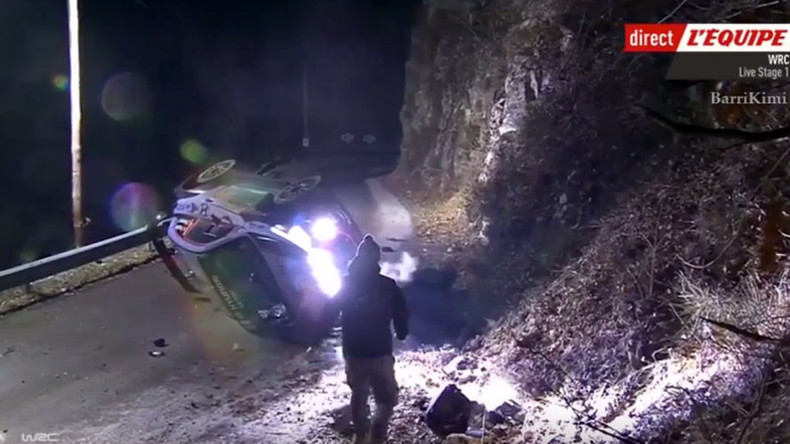 A spectator has died after an incident involving driver Hayden Paddon's car during the first stage of the World Rally Championship opening in Monte Carlo, Monaco, on Thursday evening.
The fatal accident occurred when New Zealand driver Paddon lost control of his #4 Hyundai i20 Coupe and crashed into a mountainside, after the car hit a patch of black ice at the entry to a left-hand turn, a Hyundai motorsport statement read.
READ MORE: Vehicle plows into 22 NASCAR fans in parking lot after Virginia race

Video footage shows the car sliding along the patch of road and crashing into the embankment. Shortly after the impact, the spectator can be seen tumbling down the rocky bank.
Other fans nearby rushed to the scene with some reportedly trying to perform cardiac massage. The spectator was airlifted by helicopter to a hospital in Nice but passed away despite the efforts of medical staff, a statement on WRC.com informed. The first stage of the rally was cancelled due to the incident.
Paddon and co-driver John Kennard posted emotional tweets expressing their "shock" and "devastation" following the incident and extending their condolences to the family of the spectator.
"I am incredibly saddened by today's accident and my thoughts are with the family and friends of the person involved," Paddon tweeted.
"It's difficult to say much more at the moment as we are in shock with what has happened. I'm sorry for the family, the fans & our sport!" he added.
"Devastated by the result of our SS1 accident on Monte Carlo Rally. Deepest condolences to family & friends of the victim at this sad time," wrote Kennard.
Hyundai announced it would withdraw the #4 car from the Monte Carlo Rally as a mark of respect to the spectator.
"Hyundai Motorsport is deeply saddened to learn of the tragic passing of a spectator during the opening stage of Rally Monte-Carlo on Thursday evening," an official statement read.
"The team and crew have pledged their full support to the event organizers and authorities to understand the full details."
The first stage of the 17-stage Rally Monte-Carlo, the World Rally Championship's oldest event, began in Casino Square on Thursday evening, and Sunday's finale runs in the Alpes Maritimes mountains.
In March 2006, German co-driver Jörg Bastuck was killed in an accident at the Rally Catalunya in Spain when he was struck by an oncoming car after having exited his vehicle to change a tire.