'If Khabib & Conor fight, McGregor wouldn't last a round' – UFC veteran Frank Mir (RT EXCLUSIVE)
Two-time UFC heavyweight champion Frank Mir recently visited Russia to provide commentary for the ACB 50 'Stormbringer' show in St. Petersburg, where RT Sport caught up with him to talk all things MMA.
Frank Mir is instantly recognizable as one of the top names in MMA. As a fighter he holds wins over some of the sport's most notable names, including Brock Lesnar, and holds the record for the most fights, victories and submissions in Ultimate Fighting Championship (UFC) heavyweight history.
One of those submissions won Mir the UFC heavyweight title against Tim Sylvia in just his ninth fight, a feat he would repeat against Rodrigo 'Minotauro' Nogueira for the interim belt to make him a two-time champ.
Now, while taking a hiatus from the octagon, Mir is proving just as effective cageside as a color commentator. It is a role he fulfills with the Russia-based Absolute Championship Berkut (ACB), most recently at the organization's 'Stormbringer' event in St. Petersburg, and one he says he "very much enjoys."
"Oh yeah I've commentated many times before … basically one of the guys [at ACB] gave me a ring, asked me if I was interested in doing the commentating still, and I am. The UFC wasn't using me, so I jumped on the opportunity to keep practicing my skills and do something I very much enjoy."
Mir became one of the most marketable MMA fighters during a 29-fight career that began in 2001, before the sport gained mainstream attention. Given his new venture as a commentator, does this mean his fighting days are over?
"No, not at all," Mir said. "Just taking a momentary break from fighting, dealing with some things outside in that area and then while I'm doing that just train and hopefully get back to fighting really soon and do both at the same time."
After making his name in UFC, the organization most commonly associated with professional mixed martial arts, Mir is enjoying working with an organization he believes is providing "competition" by raising the bar for its rivals.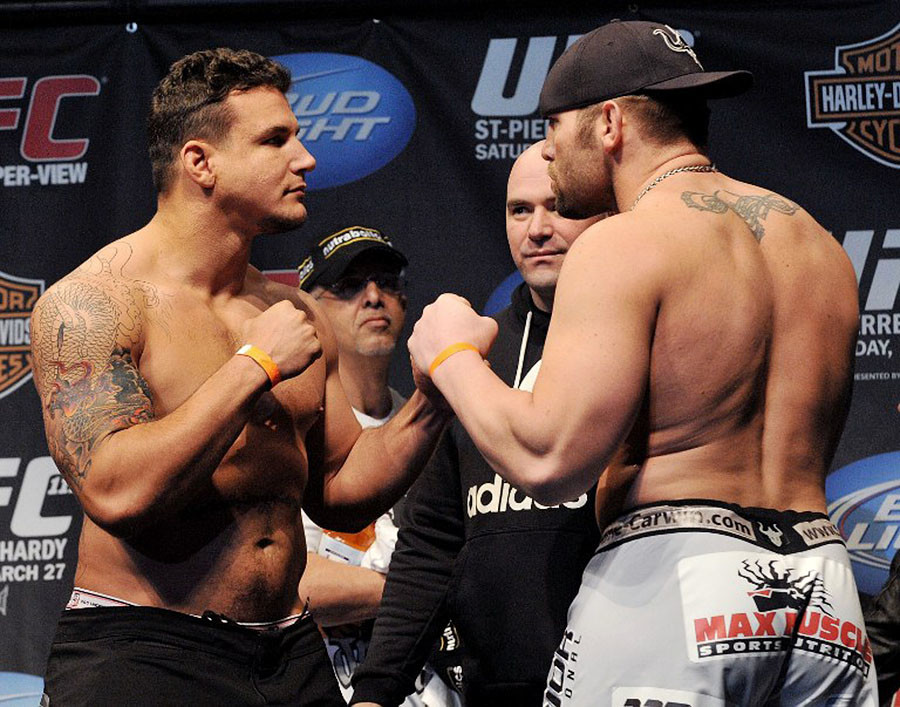 "I think it's great. I think competition makes it better for the consumer. If you look at anything – if only one guy made cars, how good do you think the cars would be? They have no competition. The fact that you have different car companies having to compete against each other creates: everybody's trying to build a better car. And the people who benefit from that are the people buying the cars.
"So it's the same thing if anyone wants to buy fights – if there's only one show out there how good does the show have to be? They have no competition. So I think if you're a fight fan, you want Bellator, you want Rizin, you want ACB, you want all the other organizations out there to keep posting out products then the UFC has to raise its bar and they're constantly chasing each other."
ACB is the brainchild of founder Mairbek Khasiev and follows the mantra of "less show, more fighting" – an idea that focuses on providing evenly matched fights without relying on showmanship.
Mir believes following that concept is beneficial for the organization and fight fans in general.
"I think that the whole structure is extremely smart. A lot of people sometimes get turned off by the turmoil [which dictates] that these guys have to hate each other, and all the drama and entertainment. There are people who love that and the UFC provides that with countdown shows and you get to know who the guys are, and they talk trash each other. But if you like watching martial arts then you're gonna gravitate more towards ACB – less showmanship and more actual fighting."
The factor of showmanship is something that Las Vegas native Mir singles out as a huge difference between the MMA markets in Russia and in his home country, where, he says, the 'character' of a fighter holds more credibility than their ability.
"You know what? Right now I think the character might actually outweigh the fighting ability. We have a couple of fighters now in the UFC that, on fighting merit, they couldn't fight in other leagues. I don't want to name any names but I'm sure anybody could see guys signed to contracts that are fighting and you raise your eyebrow and think, 'why is that guy/girl in there'? But it's because of social media. We're very much a country of Kim Kardashian fans, so it's much more about entertainment than quality or substance.
"I don't think ABC would put a [former WWE wrestler] CM Punk in the cage to fight. The UFC did it and they'll probably do it again. But they had a big attendance, a lot of people watched because there was a story behind it. It just shows you in the US a lot of people are more interested in the story behind what's going on rather than what the fight is. I just think they watch the fight to see the result at the end. It's an afterthought more than it is a primary drive, whereas you go to other places, especially like Russia where fighting is actually a passion not necessarily just 'who-hates-who'.
"That's why Conor McGregor does so well. He's a good fighter but let's face it: if Khabib [Nurmagomedov] and him face off, I wouldn't bet on Conor to last even past a round. But he makes more money than Khabib because he has such a great mouth."
READ MORE: Conor McGregor to appear in 'Game Of Thrones'?
Khabib Nurmagomedov is currently one of Russia's most beloved professional athletes and is ranked number one in the UFC's lightweight division, where brash Irishman Conor McGregor is champion. Khabib's straight talking persona, traditional 'papakha' headwear and flawless 24-0 fighting record have also endeared him to fans outside his home country.
But, while Mir acknowledges a fighter's 'character' is sometimes unnecessary, Nurmagomedov's fighting ability alone is not enough for him to become a superstar in the UFC, even for a fighter whose takedown technique is something Mir has "added to his game" as a fighter.
"Well I think he's realized that too. I think Khabib has stayed true to his character, he's a softly-spoken guy and I think he does all his talking with his fists and he's not getting title shots and he's not getting talked about in the US media as much. A guy who is 24-0, amongst the fighters we know he's probably the best guy really in the world at lightweight. I don't think anybody questions his ability to destroy guys and how powerful he is. But ESPN isn't knocking his door down to give him interviews and he's not doing commercials, Conor is.
"Conor's making millions of dollars fighting and so I think Khabib now sees that and realizes he needs to start talking more. And here, he goes out and destroys Michael Johnson in his last fight [and] made him look like he shouldn't even be in the top ten. Michael Johnson is an excellent fighter [but] he couldn't do anything against Khabib, who absolutely destroyed him on the ground. It was brutal, very brutal, until the submission.
"People talked more about what he said after the fight about Conor being a chicken and about he choked on the ground and 'chicken' this 'chicken' that – that made the headlines. Not how great of a fighter he was and how devastating he was on the ground. I think he sees that. So you can put on a great show, but it's not really the show, it's what you say afterwards that's going to get you that title shot, so Khabib's really trying to make that adjustment. He's a competitor and a martial artist and I think he's trying to make adjustments in his life so that he can get that title shot and hold the belt."
With the UFC seemingly offering a platform to superstardom mostly for fighters with character able to sell huge pay-per-view numbers, does Mir see it as being the correct route for Russian fighters who are traditionally more unassuming?
"If they want to make it in the UFC but I think if the ACB keeps on doing well and keeps growing, why do they have to make it to the UFC? Just make it in the ACB and be a world champion. And that goes back to what I said earlier about competition.
"It's like tuning into the Olympics – are you tuning in for the characters or are you tuning in to watch performances? So I think ACB could cater for the guys who just give great performances and don't have to pretend to be something that they're not."
And while the UFC is the strongest MMA promotion, the fact that fighters are usually required to speak English fluently to get promoted might prevent potential signings.
"It's kind of hard to base that because if we're going to base it off the UFC, the UFC is dominated by people who speak English, so there's a factor that has nothing to do with fighting that weighs heavily into it, so it makes it very biased so it's not a clean judgement, it's more like apples to oranges.
"If we did an Olympic-level competition where speaking English wasn't a requirement then it would be much easier to sit here and say who is better."
You can share this story on social media: