'Russians are different breed of people' – world heavyweight champ Wilder
Published time: 16 Dec, 2016 17:19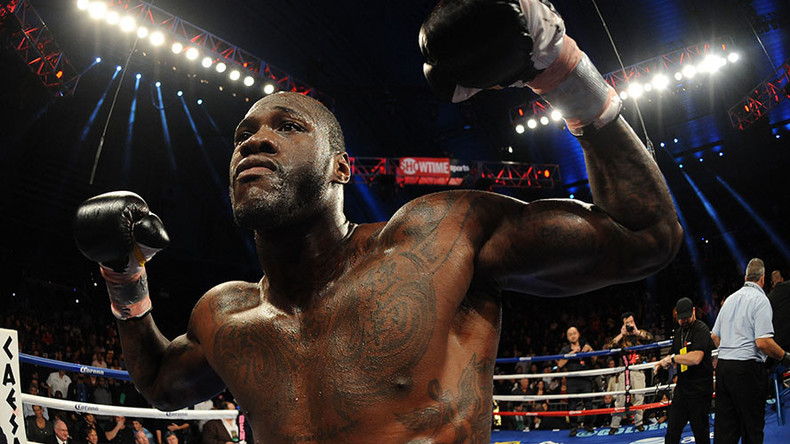 World heavyweight boxing champion Deontay Wilder has issued a scathing attack on Russia and Russian athletes by branding them "untrustworthy" and a "different breed of people."
Wilder made the statements in reference to the heavyweight fight between Bermane Stiverne and Russian fighter Alexander Povetkin in Ekaterinburg this Saturday.
He said he doesn't believe Canadian boxer Bermane Stiverne will get a fair shot at the interim WBC title against Povetkin because the fight will be on the Russian's home turf.
Stiverne is fighting for the chance to face full WBC champion Wilder to regain the title he lost on points to the big-hitting American in 2014. But Wilder doesn't think he will get a fair deal and has branded Russians "untrustworthy" and thinks that the location of the fight is largely in Povetkin's favour.
"If it's in [Russia], Povetkin's gonna win it," Wilder told BoxingScene.com.
"No doubt in my mind. I know in this heavyweight division, it just takes one punch. But there's a lot going on in this boxing game, especially with these Russians, man.
"Time after time you see them [Russians], especially in 2016, it's been a global thing with them. Especially with the Olympics, with the cheating and stuff like that. You just can't trust them. You just can't trust them. In boxing, this sport, you really can't trust nobody. But they're a different breed of people," he added.
Wilder had been set to face Povetkin in Moscow on May 21 but the fight fell through when one of Povetkin's samples (the fourth of six) returned a positive result of 0.07 micrograms per milliliter of meldonium.
The WBC later cleared Povetkin in the doping case, opting not to ban him because of "the impossibility to scientifically prove that Mr. Povetkin ingested meldonium after January 1, 2016," when the drug was included on the World Anti-Doping Agency (WADA)'s list of forbidden substances.
READ MORE: Wilder & Povetkin will fight in the court
Wilder and his promoter Lou DiBella filed a lawsuit against Povetkin and his promoter Andrey Ryabinsky, head of World of Boxing promotional team, seeking $5 million in damages, including the $4.36 million guaranteed purse Wilder would have received from the fight.
Less than two weeks later, Povetkin and Ryabinsky filed their own claim, seeking $34.5 million for both breach of contract and defamation.