Wilder & Povetkin will fight in the court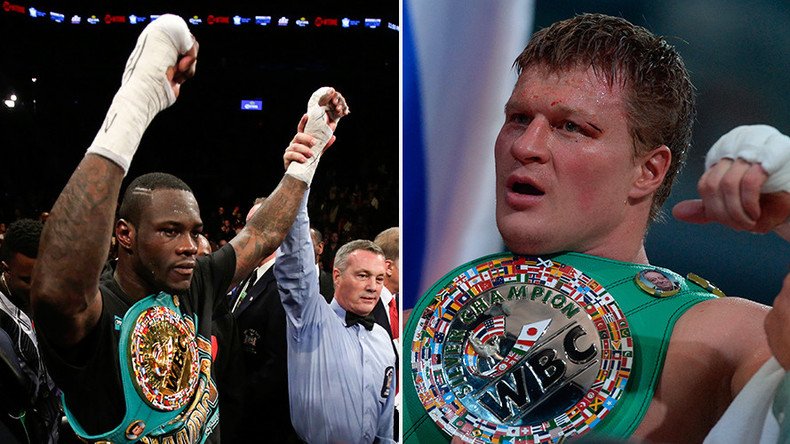 Russian boxer Alexander Povetkin and his promoter have countersued heavyweight champion Deontay Wilder and his promoter over the recent cancelation of a title bout.
Wilder backed out of the fight because one of Povetkin's samples (the fourth of six) returned a positive result of 0.07 micrograms per milliliter of meldonium.
The WBC postponed the fight pending clarification. The World Ant-Doping Agency (WADA) is still unclear about the process of excretion of the substance from the body.
WADA included meldonium on the list of banned substances on January 1, but has stated that levels of less than one microgram do not require an athlete to stop competing.
Despite this, Wilder withdrew from the fight and publically accused Povetkin of taking banned drugs.
Wilder is set to defend his title against Chris Arreola on July 16 in Birmingham, Alabama.
Povetkin and Andrey Ryabinskiy's World of Boxing company have claimed breach of contract and defamation against the American fighter and DiBella Entertainment Inc.
They are seeking at least $34.5 million in damages after Wilder pulled out of the fight scheduled for May in Moscow after hearing the test results. He didn't wait for a ruling from the World Boxing Council (WBC).
The lawsuit alleges Wilder threw "the equivalent of a childish temper tantrum" after deciding not to fly to Russia and started a "public smear campaign" against Povetkin and Ryabinskiy.
"The Wilder side has behaved in an unsporting and disrespectful way," said Ryabinskiy.
"I'm convinced they did this deliberately, because they were afraid of the fight with Povetkin. But we will not let this pass unchallenged."
Earlier, Wilder and DiBella filed their own $5-million breach of contract lawsuit against Povetkin and World of Boxing, saying the Russian's positive test during April caused the fight's cancelation.
READ MORE: Boxing: Wilder v Povetkin in doubt after Russian tests positive for meldonium
Both claims have been filed with the US District Court in Manhattan.
Judd Burstein, a lawyer for Wilder and DiBella, said the countersuit was "absurd," and that Povetkin "would be better off to just stop doping, and fight clean."
However, Elmira Kondratyeva, Partner at Forward Legal law firm, who is representing Povetkin's interests is confident of success.
"We rate the chances of winning quite high, as Wilder's statements are having an extremely negative impact on the reputation of one of the most respected boxers in the world," she said.
You can share this story on social media: