Boxing: Wilder v Povetkin in doubt after Russian reportedly tests positive for meldonium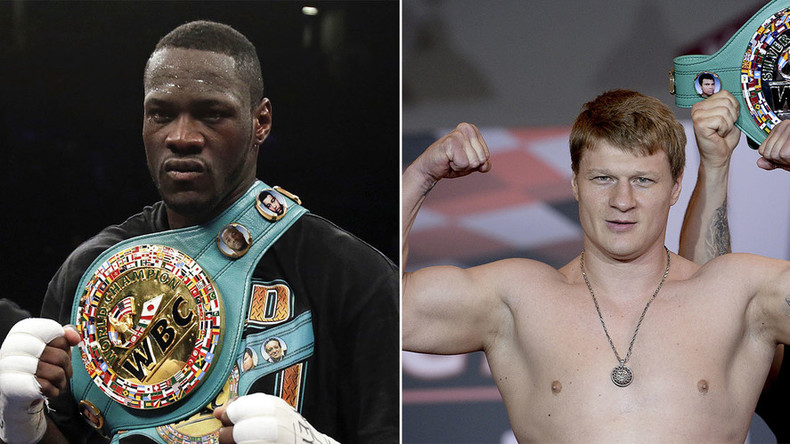 The WBC heavyweight title fight between Deontay Wilder and Alexander Povetkin has been thrown into doubt just a week before it is due to be held, after the Russian boxer reportedly tested positive for banned substance meldonium.
The undefeated (36-0) Deontay Wilder, 30, is set to defend his WBC heavyweight championship on May 21 in Moscow against Russian Alexander Povetkin.
But the status of the fight is now unclear after ESPN's Dan Rafael tweeted that "two sources with knowledge of test have told ESPN that Povetkin tested positive for meldonium."
The head of Russian boxing promotion company "World of Boxing" Andrey Ryabinskiy later stated that Povetkin stopped using meldonium in September 2015, four months before the substance was banned by the World Anti-Doping Agency (WADA).
"On one hand the substance has been found, on the other the concentration of said substance shows that, it was used in 2015, before it was banned. So no decision at the moment.
"We are in talks with WBC, and they will decide if the fight will go on as planned.
"At the moment the fight is not canceled." - said Ryabinskiy.
Official WBC twitter also confirmed that no decision has been made at the moment.
Saying that they are awaiting for sample B results.
While Wilder has remained undefeated throughout his career, Povetkin suffered a loss in October 2013 against Wladimir Klitschko, and stands 30-1 at the moment.
The fight is scheduled to take place at Moscow's 14,000-capacity Megasport Arena on May 21.