American MMA fighter 'The Beast' punches out ring girl after losing (VIDEO)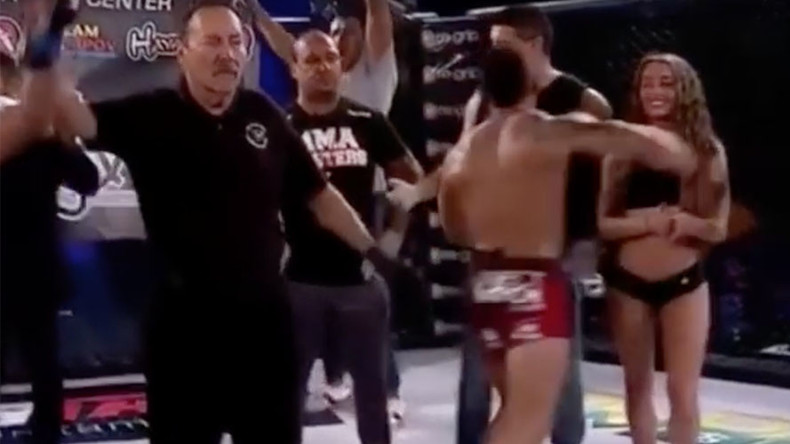 American Mixed Martial Arts fighter Andrew 'The Beast' Whitney was waiting for the fight result to be announced, fully confident in his victory – but the outcome was just the opposite. What happened after that can be seen in the shocking post-fight video.
The bout, which happened at the beginning of December in American MMA promotion Titan Fighting Club, saw 'The Beast' and Farkhad Sharipov fight for five full rounds before the result went to the referee's call.
The video shows Whitney with his arm raised high, obviously expecting to hear the decision in his favor. But after he learned that his opponent had won the bantamweight belt, 'The Beast' quickly turned around, punching the air in blind frustration.
He was completely unaware, however, that one of the ring girls was standing right behind him.
The punch caught her square in the jaw.
Whitney can be seen taking a step forward to catch the girl, although the camera moved in the direction of the victorious Sharipov immediately after the incident.
"Our ring card girl was attended to by the ringside doctor and officials. She indicated she was fine and was more surprised by the punch than injured," Titan Fighting Championship CEO Jeff Aronson told The Daily Mail.
"We have spoken with Andrew Whitney and his management and are taking appropriate actions to make sure this unforeseen incident is not repeated."
Whitney, 32, has a professional MMA record of 14 wins and five losses, and was on a four-win streak going into the fight with Sharipov.