FIFA boss Infantino wants 'zero tolerance' of sex abuse in football
Published time: 8 Dec, 2016 11:52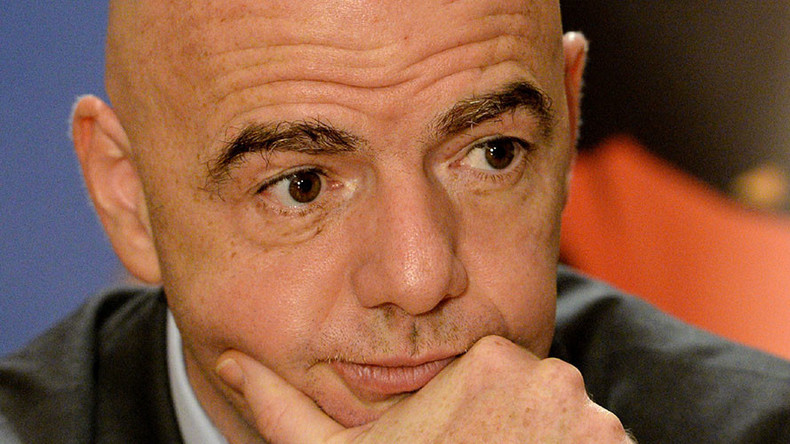 FIFA President Gianni Infantino says there needs to be "zero tolerance" of child abuse in football, promising to investigate how the sport's governing body can prevent it happening.
English football has been rocked by a scandal over accusations of historical pedophile activity within the game, with police forces across the country dealing with an increasing number of claims.
With the English Football Association (FA) also launching a review into the allegations, Infantino has insisted football must act swiftly to handle the issue.
"It has to be taken seriously - there must be zero tolerance from that point of view, from a football perspective, but also from a criminal perspective as well," Infantino told reporters in Singapore on Thursday, as reported by Reuters.
"Those who have been guilty of abusing children need to punished very seriously. They have to be out of football, that is without question, but also on the criminal side they need to be punished.
"There are not many worse things in life, not in football life but in life generally, than child abuse."
Police forces in at least 18 areas across Britain are currently investigating allegations made by 350 victims, with some cases dating back to the 1980s.
The National Society for the Prevention of Cruelty to Children (NSPCC) has received around 1,000 reports to a telephone hotline, with Premier League clubs Southampton and Chelsea among those linked to the scandal.
READ MORE: Football child sex abuse hotline receives 860 calls in 1st week
Details about possible widespread abuse first came to light last month, when former Crewe Alexandra player Andy Woodward came forward to detail his abuse at the hands of pedophile former coach Barry Bennell.
The 62-year-old was charged at the end of November with eight offenses of sexual assault against a boy and is due to appear at South Cheshire Magistrates' Court on December 14.