2 sports coaches struck by airborne objects, 2 very different reactions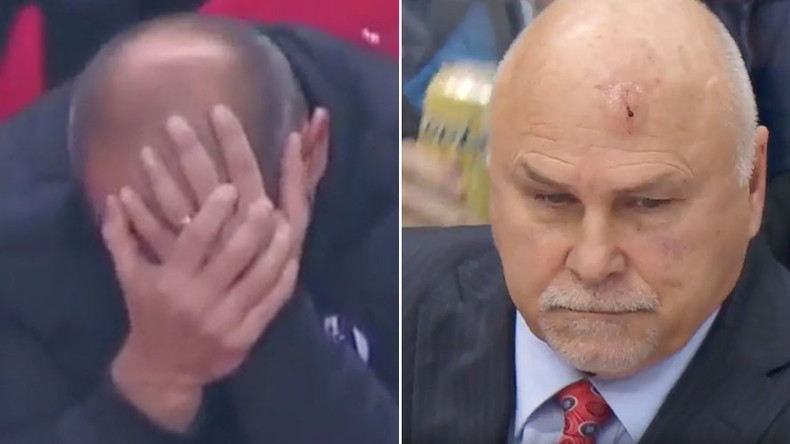 Toulouse football manager Pascal Dupraz narrowly avoided serious injury on the touchline at the weekend – when he was floored by a paper airplane which hit him on the head.
Dupraz's side were playing away to Stade Rennais FC in France's Ligue 1 in an eventual 1-0 defeat when he suffered the airborne attack.
In a spectacular piece of simulation, Dupraz swiftly dropped to one knee, holding his head and creating much concern among his colleagues on the Toulouse bench.
The manager received some TLC from his assistants, who tried to remedy his injury with a pat on the back and a rub on the noggin. Dupraz was able to identify the offending item to coaches when taking a break from holding his head.
The incident happened in the 94th minute of the match, with Toulouse trailing by a first-minute Yoann Gourcuff goal and down to 10 men following defender Christopher Jullien's red card at Stade Rennais' Roazhon Park.
READ MORE: Las Vegas announces 'Vegas Golden Knights' ice hockey team for 2017/18 season

Thankfully, Dupraz made a remarkable recovery and was able to see out the few seconds left in the match to the final whistle.
In contrast to Dupraz's dramatics, ice hockey head coach Barry Trotz of the Washington Capitals was hit on the head by the puck during his team's NHL game versus the Toronto Maple Leafs.
Trotz was standing in the dugout when the puck struck him, but rather than falling to the ground, he shook the injury off and continued coaching with a gash in his forehead.
It's safe to say that coaches rink-side are made of sterner stuff.