'For my Russian fans': 'Miss BumBum' poses in World Cup 2018 mascot body paint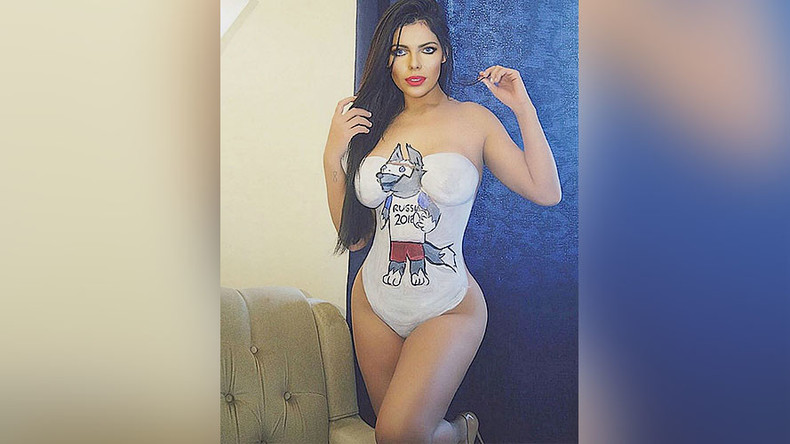 Playboy model and 'Miss BumBum 2015' winner Suzy Cortez has declared her support for FIFA World Cup Russia 2018 – by having the official mascot painted on her with body paint.
Curvy Cortez had previously wowed fans with a steamy photoshoot to welcome the announcement that 'Zabivaka' the wolf had been chosen as the official FIFA World Cup Russia 2018 by posing in a Russian football kit.
Zabivaka was announced as mascot for the tournament on a popular Russian late-night television chat show 'Evening Urgant', with Cortez's compatriot, Brazilian footballer Ronaldo, as a special guest.
READ MORE: Brazilian model welcomes World Cup Russia 2018 mascot with revealing snaps (PHOTOS)
The 'Queen of Curves' subsequently posted pictures of herself in the Russian national shirt and of an image of Zabivaka with the message: "Welcome #Zabivaka the wolf, Official Mascot of #Russia2018. Thank you @rfpl_org, @teamrussia and @adidasrussia #suzycortez #missbumbum#worldcup".
Now she has gone one better and ditched the shirt and shorts to post a series of racy snaps with Zabivaka on her bare flesh.
In an exclusive interview, the bold Miss BumBum told RTSport just why she was to show her colors (and flesh) in support of the wolf and the Russia World Cup.
RT: Tell us please, few things about yourself and what inspired you for this photoshoot?
Suzy Cortez: I am 25. I'm an actress, international model and TV host from Campinas, São Paulo. I did the photoshoot in tribute to my Russian fans. They treat me with so much affection from 2014 when I won a Musa Cup in a TV channel in Brazil as a representative of Russia with great pride.
RT: When and how did you learn about Zabivaka being announced as the official mascot for the 2018 World Cup in Russia?
SC: I watched the presentation on MatchTV, I really enjoyed the Zabivaka name and I love the fox [sic].
RT: Are you looking to visit Russia in 2018 for the World Cup?
SC: I'm going to the Confederations Cup 2017 and 2018 will watch all games of Russia.
RT: What do you know about Russia? And what do people in general know about Russia in Brazil?
SC: The Russia is a beautiful country, a lot of culture, I really want to know and admire Russia, Brazilian have good impression of Russia.
RT: It looks like you exercise a lot. Do you have experience in any sports? And what do you like to do in your free time?
SC: Much Training and practice some sport. In my spare time that are rare I'm going to the theater, cinema and I love to read.
RT: Do you have wolves in Brazil? I noticed that you call Zabivaka a fox sometimes. Is wolf and fox is the same thing in Brazil?
SC: In Brazil only have fox. No wolf, thanks.
RT: Do you have a message for your Russian fans?
SC: I love them and will be there soon and want them to know that Russia today is my second motherland!
It is not the first time Cortez has shown her love for sports. In the summer she painted the colours and logo of the Rio 2016 Olympics, and has also posed in Barcelona and Argentina football shirts in support of Lionel Messi.