Brazilian model welcomes World Cup Russia 2018 mascot with revealing snaps (PHOTOS)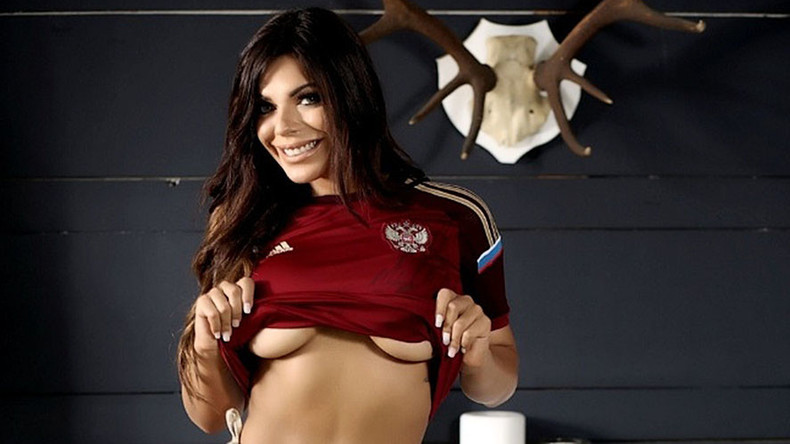 Suzy Cortez, who won the coveted 'Miss BumBum Brazil' title in 2015 – has posted snaps of her curvy figure in a Russian national team jersey to celebrate the unveiling of 'Zabivaka' the wolf as the official FIFA World Cup Russia 2018 mascot.
Zabivaka was announced as mascot for the tournament on a popular Russian late-night television chat show hosted by comedian and presenter Ivan Urgant, with Cortez's compatriot, Brazilian footballer Ronaldo, as a special guest.
READ MORE: Russian football fans choose 'Zabivaka' the wolf as mascot for World Cup 2018
Designed by student Ekaterina Bocharova, Zabivaka received 53 percent of a nationwide month-long vote to see off competition from a cat and a tiger. His name means 'the one who scores' in Russian and is rooted in the verb 'to score' (zabivat).
Now he's been given personal approval by Cortez in the form of an array of racy pictures published to her 814,000 Instagram followers, with captions welcoming his ascension to the role.
The 'Queen of Curves' posted two pictures of herself in the Russian national shirt and one of an image of Zabivaka with the identical message: "Welcome #Zabivaka the wolf, Official Mascot of #Russia2018. Thank you @rfpl_org, @teamrussia and @adidasrussia #suzycortez #missbumbum#wordcup".
The images have so far collectively amassed over 24,000 likes.
Cortez has also taken to Twitter – where she describes herself as "Cover Playboy México August 2016. Actress, TV Host and Model International. Miss Bumbum Official" in her profile – to post images welcoming the wolf. In one she can be seen holding a traditional Russian 'matryoshka' doll.
On the FIFA.com official website, Zabivaka is described as being the "youngest player on the squad, but you won't find anyone faster, bolder, or more skillful with a football."
However, English newspaper the Sun has instead decided to pick up on a cheeky distortion of his name.
The tabloid has taken to calling the mascot 'Bonk' because the Russian word for wolf, 'Волк', which was what he was known by in the voting stages, looks similar to the English slang word.
The Sun also reported that Cortez, who has previously posed for Playboy magazine, had been invited by the "Russian Federation of football" to publicize the mascot "to the best of her ability."
Such an organization does not exist and there is no evidence to suggest the Russian Football Union requested the advertising abilities of the model.
Cortez also showed her support – and the majority of her flesh – for this summer's Rio 2016 Olympic Games by painting her body with the colors and emblem of the tournament in her home country.
The 2018 Russia World Cup will be played in 12 venues in 11 different Russian cities from June 14 to July 15.