Jedrzejczyk retains UFC strawweight title in 'Polish clash' against Kowalkiewicz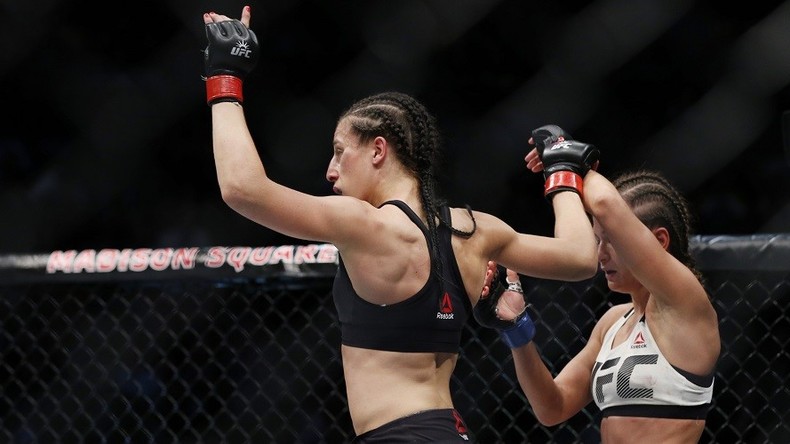 UFC strawweight champion Joanna Jedrzejczyk retained her title with a unanimous points victory over Karolina Kowalkiewicz, but she was pushed all the way by her Polish compatriot.
In the first of three co-main events at UFC 205 in New York, Jedrzejczyk dominated the early part of the fight, using leg kicks at the end of her combinations to keep her opponent at bay.
READ MORE: Miesha Tate announces retirement after losing to Pennington at UFC 205
Kowalkiewicz refused to lie down and was rewarded early in the fourth round when she delivered a huge right hand that rocked the champion.
She followed up with another good right, but Jedrzejczyk came back with one of her own before launching kicks towards her opponent's head. The duo continued to exchange blows to set up an intriguing final round.
Jedrzejczyk continued to utilize her kicking techniques, but Kowalkiewicz showed remarkable spirit to stay in the contest.
She took Jedrzejczyk to the mat in the final minute of the fight, but couldn't find a finish and Jedrzejczyk held on to seal a deserved victory.
Jedrzejczyk denied Kowalkiewicz's punch in the fourth round had caused her any problems.
"It was just for a second - I felt great," she said.
"I felt I controlled the fight. Polish girls are the toughest in the world. I'm very happy she and other Polish fighters joined the UFC.
"You know why I stay champion? I'm humble every day. I'm very focused. I challenge myself every day. That's why I'm still a champion."
Yoel Romero secured a middleweight title shot against Michael Bipsing with a stunning victory over Chris Weidman.
Romero started brightly, landing a huge body kick which hurt Weidman, but from there the American controlled the first round.
Weidman attempted a handful of takedowns on Romero and landed the better punches, but the Cuban came back strongly in the second session as he took the fight to the ground.
The duo traded kicks at the start of the third round, but when Weidman ducked into a takedown Romero delivered a flying knee which split the side of his opponent's head open.
With the referee slow to act, Romero jumped on Weidman to deliver a series of brutal punches before the contest was finally stopped.
"I trained very hard - doesn't matter what goes on in my life, I go forward," Romero said. "What God has given me."
Romero's combination of athleticism and power ultimately proved too much for Weidman to deal with and he is likely to be a dangerous proposition for Bipsing when they meet.
Despite the impressive nature of the victory, the British fighter was shown on the screen after the bout giving Romero the finger.
Romero responded saying that he loves Bipsing.