One-legged Scottish football fan scores wonder goal on his heroes' turf (VIDEO)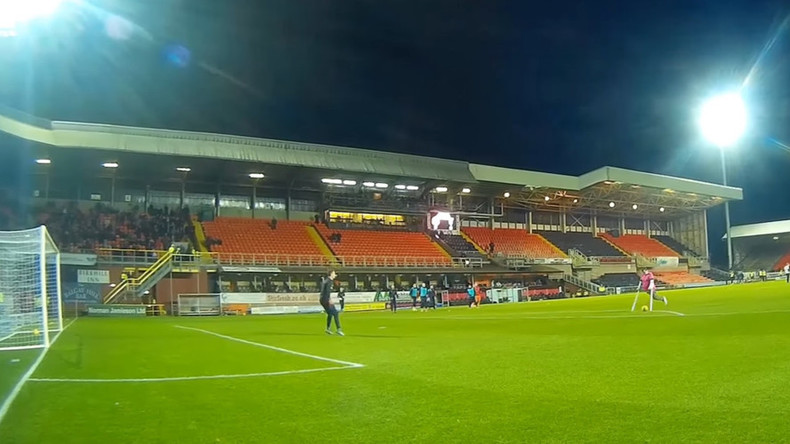 Football fan Tommy McKay scored a silky smooth goal at his beloved Dundee United's Tannadice stadium in Scotland during a halftime challenge to win a VIP hospitality package.
McKay was tackling the McEwan Fraser Legal #HomeAdvantage Challenge which challenges teams of supporters from both sides to score in under ten seconds.
The 32-year-old scored an audacious effort by dribbling on his crutches from the halfway line before cheekily lobbing home keeper Brett Long – to rapturous applause from the Dundee faithful.
The feat netted him a hospitality package which includes a free hot drink and a pie.
"It was all a bit mental," McKay said to eveningtelegraph.co.uk after scoring. "I won a competition on Twitter by McEwan Fraser Legal to do the halftime challenge. I was one of two people who won it and we were allowed to bring a mate.
"It wasn't until late on in the day that I thought that I should probably give them a heads-up that I only have one leg.
"I told them that I would still be able to kick the ball fine. I was more worried about falling over than scoring to be honest.
"It was an amazing experience — I have been doing match reports for the United website and you get to go to lots of different parts of the ground but they never let you on the actual pitch.
"It was brilliant but I didn't think that everyone else would go so crazy — the crowd were going mental."
A spokesperson for McEwan Fraser Legal said: "When Tommy told us he had one leg he told us he was confident in his ability to take part in the McEwan Fraser Legal HomeAdvantage Challenge, however none of us expected the sizzling skill he showed.
"The fact that United's substitutes stopped their warm up and cheered with the near 6,000 crowd made it all the more special. Since then it has been retweeted thousands of times.
"Tommy had a great night, as did all our competitors, once again enjoying a unique experience that McEwan Fraser Legal has put together this season for supporters."
Ironically, it was a playground football match with school friends at the age of nine that led to the shattering and amputation of McKay's right leg.
Read more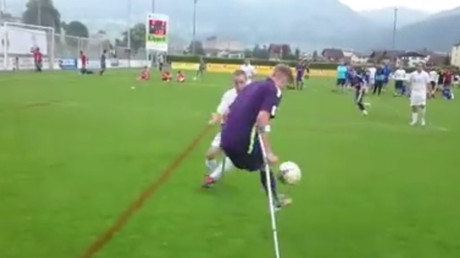 While doctors were looking into the cause of the break, they discovered his femur had snapped due to an aggressive form of bone cancer called osteosarcoma.
He subsequently underwent chemotherapy, but this was unsuccessful and his leg was removed. After further treatment over the course of the following year, McKay was given the all-clear.
"I was lucky because I was so young when it happened that I didn't have that fear in me that you get when you are older," he said of the incident.
"I am really lucky that I broke my leg — not many people can say that. The guy that tackled me was one of my best friends… he had actually saved my life.
"I'm so lucky because all it would have taken was for me to have gone to lunch and we would never have known the tumor was there."