Netherlands striker 'loses memory for 20 minutes' after sickening collision (VIDEO)
Published time: 10 Nov, 2016 13:38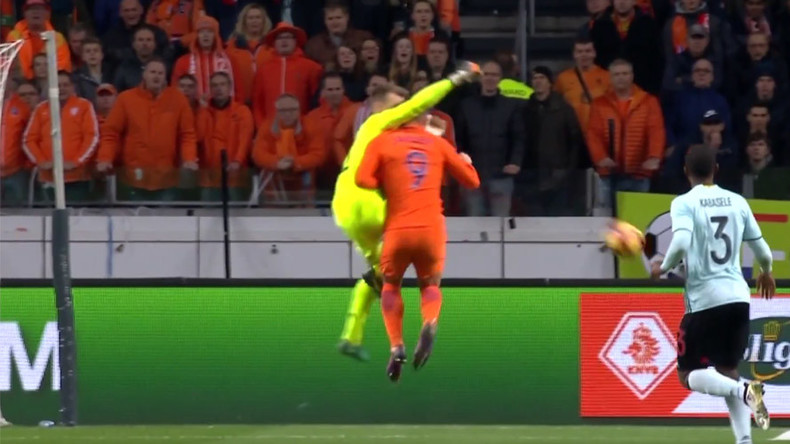 Dutch footballer Vincent Janssen lost his memory for 20 minutes in a brutal coming together with Belgian goalkeeper Simon Mignolet during the two sides' 1-1 draw in Amsterdam on Wednesday.
Janssen was on international duty in his country's 2018 FIFA World Cup UEFA Group A qualifying match against their neighbors when he collided with Mignolet in a 50/50 aerial challenge.
In the 14th minute Janssen, who has scored four Premier League goals for club side Tottenham Hotspur since joining from Ajax in the summer, was aiming to get on the end of a curved cross into the box by teammate Georginio Wijnaldum.
With his eyes fixed firmly on the ball, he failed to spot the onrushing Mignolet, who had come off his line to clear.
The Belgian keeper got to the ball first and cleared strongly with his fists, but the challenge took out Janssen when Mignolet's forearm and elbow clattered off the side of the Dutchman's head.
Those around him and even watching supporters were forced to recoil as Janssen fell into a heap inside the 18-yard-box, lying stricken on the ground until he was replaced after 25 minutes.
It was later reported that Janssen had suffered a concussion and could not remember the incident.
Bayern Munich winger Arjen Robben was a particularly uncomfortable spectator from the bench.
"Vincent Janssen is going to be a very difficult story," Netherlands manager Danny Blind said, the Mirror reported.
"The physician told me it is a concussion. He lost 20 minutes of his memory, and doesn't know what happened.
"We have to be careful with that and talk it through."
With Janssen substituted, the Netherlands went on to take the lead with a 38th minute Davy Klaassen penalty before Belgium equalized through Yannick Carrasco 10 minutes from the end.