'Racist'? 'Great friend'? How the world of sport reacted to Trump's shock presidential election win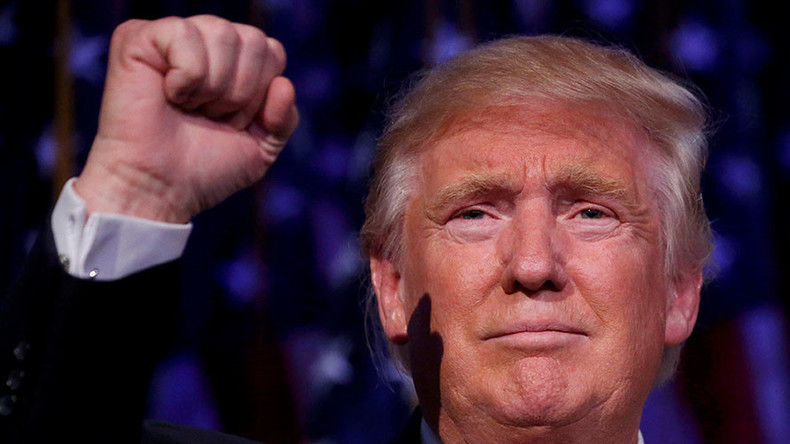 The news that billionaire businessman Donald Trump has been elected as the 45th president of the United States whipped up a whirlwind of emotions around the world - not least in the world of sport.
The Republican's unexpected victory over Democrat Hillary Clinton has left seen opinions from the shocked and angry to the elated and optimistic be voiced.
Famous faces from the sphere of sports have also expressed their reaction online, and some of Trump's highest-profile supporters were delighted at the news.
Although UFC boss Dana White didn't actually comment, he made his feelings known by choosing simply to post a smiley face symbol.
American golf star John Daly offered his congratulations to Trump and thanked the 70-year-old for "putting Americans 1st."
US international soccer star Geoff Cameron issued a rallying call to his compatriots, saying "it's time for America to come together."
Trump has strong ties to sport, having previously been a close associate of former heavyweight world champion boxer Mike Tyson, who fought at Trump Plaza and was a vocal supporter of his. Trump also once owned now-defunct American football team the New Jersey Generals.
However, not all reactions were positive. Tennis legend Martina Navratilova was quick to voice her opinion, claiming she "knew America was racist but not this much."
US soccer star Megan Rapinoe was also unhappy with the result, referencing CNN political commentator Van Jones' views during a panel discussion where he described Trump's victory as 'whitelash' against a black president.
Never one to shirk a political debate, England football legend turned charming television presenter Gary Lineker stated simply that the result was "extraordinary."
NBA star Dwayne Wade added his thoughts to the debate with a simple, yet effective GIF saying a Trump presidency was not what he wanted.
Philadelphia 76ers center Joel Embiid, an outspoken supporter of Clinton in the build-up to the vote, tried to lighten the mood with a clever play on words about his own team's fortunes in recent seasons.
After shock early victories in Florida, North Carolina and Ohio for Trump and his team, it gradually looked likely he would become president.
Wisconsin and Michigan were led by Trump as the race heated up, with the Associated Press soon predicting a Trump victory.
Clinton eventually called Trump to pass on her congratulations, but chose not make a public address to supporters following Trump's win.
Trump addressed his supporters at the New York Hilton Midtown: "Now it is time for Americans to bind the wounds of division," he said.
"It is time for us to become together as one united people – I pledge to every citizen of our land that I will be president for all Americans."