Olympic gymnast Louis Smith suspended for mocking Islam in video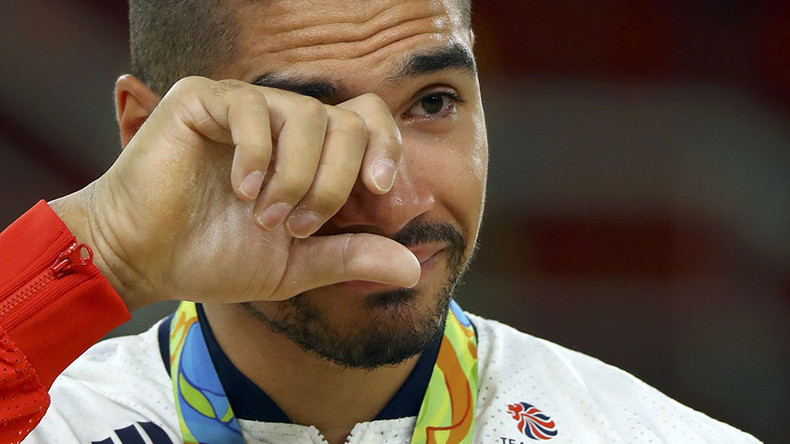 British gymnastics has suspended Olympian Louis Smith for two months for his part in a video in which he appears to poke fun at Islamic religion.
In the tape, which Smith also filmed, the gymnast mocks the faith with a fellow athlete and former gymnast Luke Carson, who dropped to his knees and shouted "Allahu Akbar."
READ MORE: British Olympic medalist gymnast mocks Islam (VIDEO)

The two were attending the wedding of gymnast Dan Keatings in Northamptonshire, England.
Near the end of the video, Smith tells a woman who criticizes their behavior that Carson is "doing his 6 o'clock prayers," before he cries, "the Prophet Mohammed!"
British gymnastics said it was a "cumulative penalty" and that an earlier misdemeanor, which involved Smith posting an image on social media of an American gymnast with an inappropriate comment, had been taken into consideration.
The pommel horse silver medalist in Rio 2016 later said he was "deeply sorry" for his "thoughtless actions" and even missed the medal-winners' homecoming parade to embark on a tour of English mosques in an attempt to make amends.
Visited 2 mosques today, Britains first ever mosque and Europe's largest!! Learnt so much in just 1 day. Thank you everyone for having me ❤️ pic.twitter.com/WZsNJeh4an

— Louis Smith MBE (@louissmith1989) October 18, 2016
"It is regrettable that following a historic summer of achievement, the organization finds itself in this difficult position with two high-profile members in breach of our standards of conduct," British Gymnastics Chief Executive Jane Allen said, BBC reported.
"As the custodians of the integrity and values of the sport, we have had no choice but to act responsibly.
"Whilst both individuals showed remorse following the incident, we hope in the future they use their profile to have a positive impact on sport and communities."
Smith, 27, has said he will take a break from competing and instead tour as a guest celebrity with stage production 'Keep Dancing'.