6 o'clock prayers? British Olympic medalist gymnast mocks Islam (VIDEO)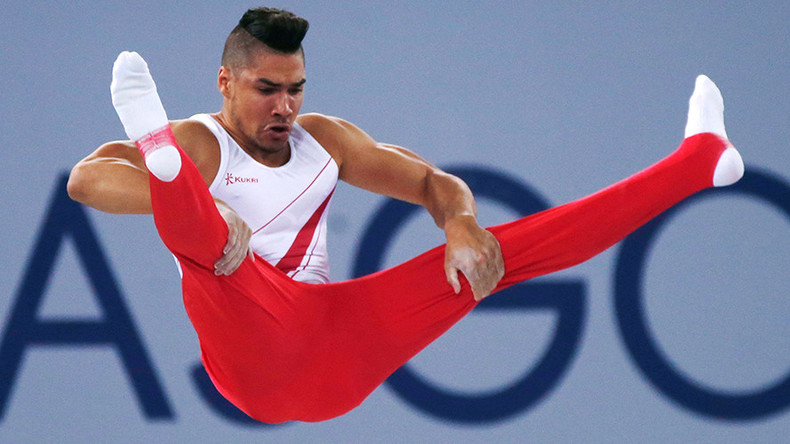 Olympic gymnast Louis Smith has been widely criticized since he apparently mocked Islam with a fellow athlete, Luke Carson, who dropped to his knees and shouted "Allahu Akbar."
In a video published by The Sun newspaper, Smith is seen filming his friend and fellow gymnast Luke Carson as he pretends to pray on a rug while singing the Islamic phrase meaning "God is the greatest."
The 27-year-old Smith, who won a silver medal on the pommel horse in the individual competition at Rio 2016, was reportedly attending the wedding of gymnast Dan Keatings in Northamptonshire, England.
Near the end of the video, Smith tells a woman who criticizes their behavior that Carson is "doing his six o'clock prayers," before he cries, "the Prophet Mohammed!"
Mohammed Shafiq, chief executive of the Ramadan Foundation, has called on the duo to apologize for their actions.
However, according to thesun.co.uk, Carson claimed last night that "it was a three-minute video of us just fooling around."

Smith was also accused earlier this year for "showing a lack of sportsmanship" during the Rio Games, after he appeared to snub fellow British gymnast, Max Whitlock, after the later beat him to the gold medal in a dramatic pommel horse final.
It's not fitting for an MBE and Silver Oly medalist to be mocking the beliefs of 1.4b people #louissmith he should be stripped of his titles

— Saddique (@s4ddique) October 8, 2016
Carson, 26, retired from competitive gymnastics after the 2014 Commonwealth Games in Glasgow following a long battle with injuries.