Cristiano Ronaldo causes Buddhist brouhaha after 'insensitive' social media post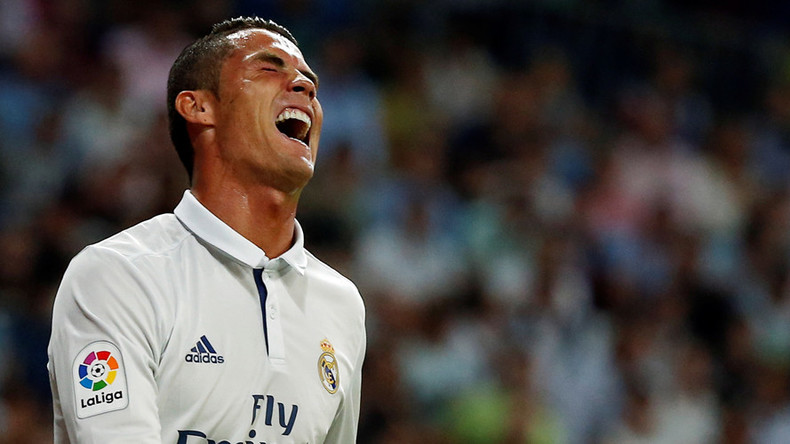 Real Madrid winger Cristiano Ronaldo has been admonished on social media for posting a photo of himself on Instagram in which his foot is resting on the base of a Buddha statue.
A slouching, casually dressed Ronaldo is seen in the picture standing beside the statue with his hands in his pockets wearing grey training pants, sporty nike sneakers, a snapback, and sunglasses.
Whether he intentionally put his foot on the statue or not, an enraged army of practicing Buddhists is demanding that he apologize.
Social media users have accused the Portuguese soccer player of showing disrespect to Buddhism, while calling on the three-time Ballon d'Or winner to remove the post immediately. However, Ronaldo – whose Instagram handle is @cristiano – has yet to take the image down.
The post, which is captioned with the words "Bom Dia," which is Portuguese for "good morning," had 1.8 million likes and 21,600 comments as of the time of this writing.
Ronaldo is one the world's most-popular footballers with a plethora of fans worldwide, not least for his skill and athleticism on the field, which has seen him win three UEFA Champions League titles, but also for his generous acts of philanthropy.
In March of 2014, Ronaldo forked out $83,000 to pay for an operation for a 10-month-old baby born with a neurological disorder that the boy's family could simply not afford.
Ronaldo also maintains a presence on other social media platforms. While the image was not posted to his whopping 47.6 million followers on Twitter, it did make it onto his official Facebook page, where many users also took offence.
Ronaldo has a total of over 244 million followers across Instagram, Facebook, and Twitter.
The Madrid star's following has made him a major marketing tool for brands such as sporting giants Nike, watchmakers Jacob and Co, and the fast food chain KFC.
Interestingly, Maria Mendes, daughter of super-agent Jorge Mendes, has been appointed to take control of all of CR7's social media accounts.