Chael Sonnen to make Bellator debut against Tito Ortiz in LA
Published time: 19 Oct, 2016 13:19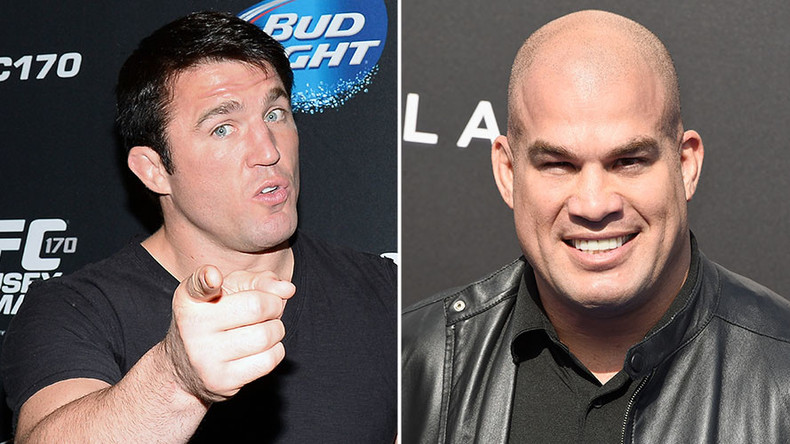 Bellator is set for what could be the biggest night in its history following the announcement that Chael Sonnen will face Tito Ortiz in Los Angeles on January 21.
The fight was first reported by Brett Okamoto on ESPN's SportsCenter and subsequently confirmed on Twitter by Bellator's president, Scott Coker.
Sonnen surprisingly signed with Bellator last month after completing a two-year doping suspension by the Nevada Athletic Commission (NAC).
The 39-year-old had been expected to return to the UFC after entering into the promotion's USADA-run anti-doping program, but stunned MMA fans by joining its biggest rival.
Matchups with Rory MacDonald, Wanderlei Silva and Fedor Emelianenko had been touted as possible fights for Sonnen, but the famed trash-talker's sights have seemingly always been set on Ortiz.
"I look at him, like, 'Tito, you know I could whip your ass,'" he told the Associated Press before the fight was agreed.
"And he gives me that exact same look. Every time we're in the same room, it's like this big alpha male contest.
"If the 'Bad Boy' [Ortiz] wants a piece of the 'Bad Guy,' all he's got to do is say my name."
A former UFC light heavyweight champion, Ortiz is also a UFC Hall of Famer and was one of the first major stars during the company's rise to prominence.
He held the title for more than three years before losing it to Randy Couture at UFC 44 in September 2003.
Ortiz signed with Bellator in 2013 and has won two of his three fights with the promotion. He lost his most recent bout, however, being defeated via first-round submission by light heavyweight champion Liam McGeary in September 2015.
Founded in 2008, Bellator will be holding an event at the Los Angeles Staples Center for the first time.
Sonnen's long absence from the sport will make Ortiz favorite to win the contest, but the prospect of two of MMA's biggest-ever stars going head-to-head should ensure a bumper payday for Bellator.