England manager Sam Allardyce faces FA investigation after newspaper sting
Published time: 27 Sep, 2016 11:44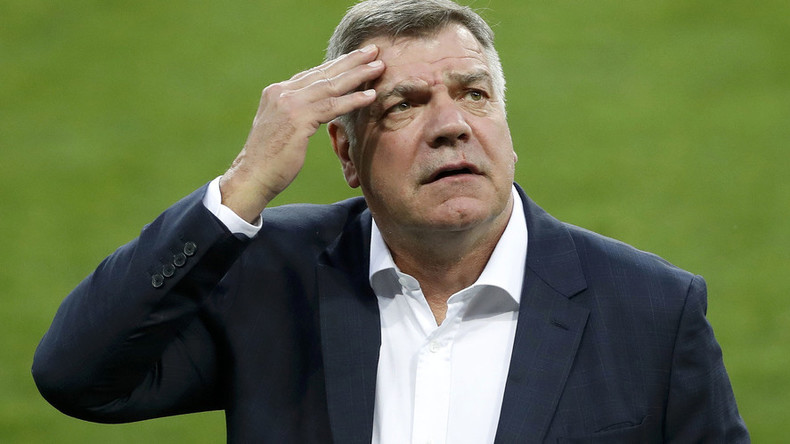 Sam Allardyce has become embroiled in a scandal just two months after being appointed as England manager, with a British newspaper entrapping the veteran coach in a sting.
Undercover journalists from the Daily Telegraph pretended to be Far East businessmen and taped a conversation with the former West Ham United trainer.
Allardyce is heard on tape as stating that it was possible to get round rules about third-party player ownership – which his current employer the FA implemented in 2008.
The 61-year-old stated that it was not a problem to circumvent these regulations, and that certain agents bypassed the rules all the time.
Allardyce is also heard mocking predecessor Roy Hodgson's speech impediment, calling the former Three Lions manager "Woy."
READ MORE: Hundreds arrested in Chinese crackdown on Euro 2016 betting
The FA has been vocal in its condemnation of this in the past, and once called a newspaper headline using the same demeaning name "unacceptable."
Other controversial comments from Allardyce include his criticism of the FA's decision to rebuild Wembley Stadium, which he called "stupid."
Talked to a few FA people tonight. Allardyce is in for a painful inquisition starting properly tomorrow. Touch and go whether he survives.

— Henry Winter (@henrywinter) September 26, 2016
He also attacked former England assistant manager Gary Neville and stated that the former Manchester United defender should have been told to "sit down and shut up."
The veteran manager believed he was meeting with businessmen to negotiate a big-money deal to fly to Singapore and Hong Kong four times a year to talk to investors.
Allardyce believed he was set to pocket $518,000 (£400,000) in a deal with what he thought was a firm eager to buy football players.
The scandal is the last thing that the FA will want given the manager's recent appointment.
READ MORE: 10 arrested on suspicion of match-fixing in Wales
They have requested the full transcripts of Allardyce's comments and will launch an investigation into the incident.
Allardyce is no stranger to media stings, having been implicated in a 2008 exposé that saw him accused of taking illicit payments through the transfer of players.