Vitaly Mutko re-elected as president of Russian Football Union
Published time: 24 Sep, 2016 16:23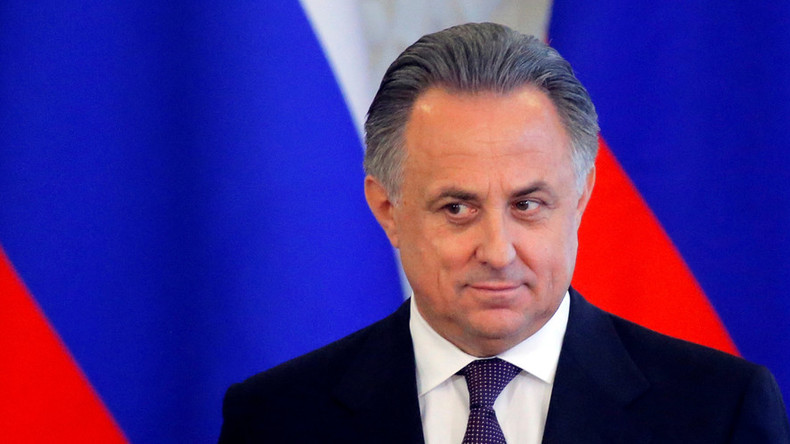 Russia's Sport Minister Vitaly Mutko has been elected to stay on as the president of the Russian Football Union (RFU). The 57-year-old received 266 votes, while his main rival, former Russia and CSKA Moscow coach Valery Gazzaev, received 142 votes.
Mutko, who previously served as the RFU president from 2005-2009, took over as the head of Russian football in 2015 in a caretaker role after the former president Nikolay Tolstykh received a vote of no confidence from the executive committee members.
"It was not an easy decision for me to decide to run for the presidency again," Mutko told delegates at the conference, which was held in Moscow.
"You know the situation in Russian football is difficult as we are experiencing certain problems. This is a crisis or a coma - everyone has their own thoughts. It is impossible not to see the fact that Russian football has huge potential and possibilities, but these are not being realised.
"Last year was very difficult for me. However, in a short space of time, we managed to consolidate things and started to move forward," added Mutko.
Mutko had expressed doubt he would be regain his former role before the election, but a clear 124 votes clear of his nearest rival means that his fears were unfounded.
He now inherits the task of restoring pride to Russian football before the beginning of the World Cup in Russia.
Russia were humiliated on and off the pitch at UEFA EURO 2016 this summer in France. The team failed to win a single game and finished bottom of their group following defeats to Slovakia and Wales.
Meanwhile, Russia's fans were the subjects of intense media scrutiny after they were involved in numerous clashes with England supporters and police in Marseille.
A section of Russia's supporters also attacked England fans inside the Velodrome stadium in Marseille, which led to UEFA taking the unprecedented step of warning Russia they would be kicked out of the tournament if there was any further trouble.
One incident allegedly filmed by a Russian hooligan on a hands-free camera captured a planned attack on rival fans being carried out on the streets of Marseille.