Lance Armstrong whistleblower questions Bradley Wiggins and Team Sky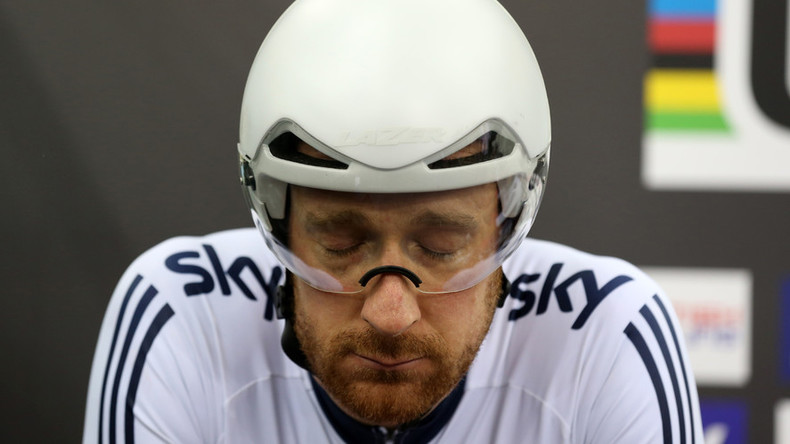 The Sunday Times journalist who helped to expose shamed cyclist Lance Armstrong's doping activities has criticized the behavior of the all-conquering Team Sky set-up.
Back in 2013, Sunday Times chief sports writer David Walsh accepted an invitation from Team Sky general manager Sir David Brailsford to spend 13 weeks observing his team's activities from the inside.
In his latest column for the newspaper, Walsh has questioned many of the things he uncovered during that time, particularly with regard to former Tour de France winner and multiple Olympic champion, Sir Bradley Wiggins.
READ MORE: UK runner Mo Farah, Spanish tennis star Rafael Nadal among names on new WADA hack release

Under the headline 'It looks bad, Brad', Walsh wrote: "The team that wanted to be seen as whiter than white had been dealing in shades of grey. What they did was legal, but it wasn't right."
Walsh suggests that a 2012 injection of triamcinolone, ahead of Wiggins' historic Tour victory, was given as a preventive measure rather than to treat existing symptoms.
With questions being raised over whether Wiggins was being treated by Dr Richard Freeman or the disgraced Geert Leinders, who has been banned for life by anti-doping agencies, Walsh says he questioned the former about who actually dealt with British riders' therapeutic use exemptions (TUEs).
Freeman replied, saying he could not comment on confidential medical records, although Wiggins issued a statement just two hours later clarifying that Leinders had nothing to do with the TUEs he received.
While Walsh acknowledges there is no evidence that Wiggins abused the system in any way, he claims there are questions to be answered over the dates when he obtained the three TUEs with Team Sky.
In 2011, three days before the start of the Tour de France, Wiggins was given a TUE to have a one-off 40mg injection of the powerful corticosteroid triamcinolone acetonide.
Just four days before the 2012 Tour he was given permission for another one-off injection of triamcinolone.
Ten months later and just two weeks before the start of 2013 Giro d'Italia, Wiggins got another TUE for a 40mg injection of triamcinolone.
Between the second and third TUEs Wiggins released an autobiography, My Time, that covered his 2012 Tour victory. Unusually, he wrote about his own experiences with injections.
"In British cycling culture, at the word 'needle' — or the sight of one — you go, 'Oh s***' - it's a complete taboo," he wrote.
"I've never had an injection, apart from when I've had my vaccinations and on occasion I've been put on a drip, when I've come down with diarrhoea or something."
Walsh notes that in their seven-year history, Team Sky have applied for just 13 TUEs, but questions why Wiggins should have accounted for three, shortly before his biggest races of that season.
While acknowledging that "opinions differ on the performance-enhancing qualities of triamcinolone acetonide" Walsh says there is widespread agreement "that it is a potent steroid".
It was found in Armstrong's urine after his first Tour victory and the American only avoided a doping ban because his team backdated a medical prescription, which was subsequently accepted by the cycling authorities.
Team Sky's refusal to enter into the debate surrounding last week's hack of the cyber security systems of the World Anti-Doping Agency (WADA), which saw confidential medical information leaked about sportsmen and women, including Wiggins, has further raised Walsh's suspicions about its activities.
He says the "2012 injection is far more difficult to explain" and asks why Wiggins didn't mention any illnesses ahead of the Tour in his book.
Despite Walsh's misgivings, a spokesman for Wiggins has categorically denied any wrongdoing by the British star.
"The triamcinolone injection that is referred to in the WADA leaks is an intramuscular treatment for asthma and is fully approved.
"Brad stands by his comment concerning the use of illegal intravenous needle injections."