UK runner Mo Farah, Spanish tennis star Rafael Nadal among names in new WADA hack release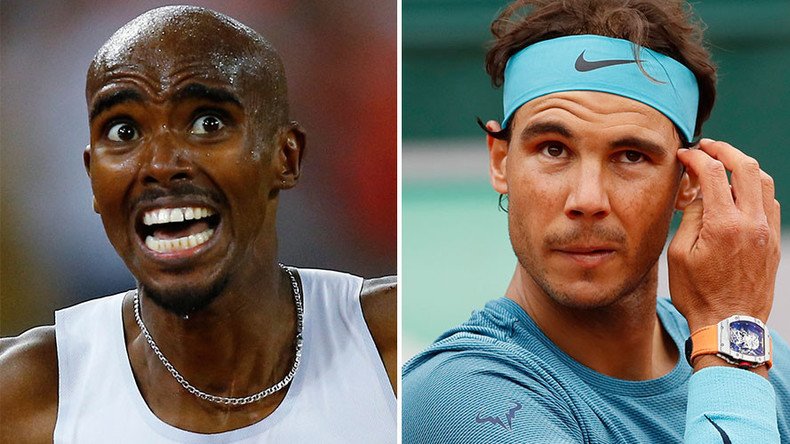 The hacker group known as 'Fancy Bears' has released its latest list of WADA drug test results of well-known athletes, including those from Great Britain, Denmark, Australia, Spain and Germany.
The most high-profile names on the list are Great Britain's 'double-double' Olympic champion Mo Farah and Spanish tennis great Rafael Nadal. They appear on a 26-name list alongside athletes from Argentina, Belgium, Burundi, Canada, Denmark, France, Hungary and the USA.
The country that features the most athletes is Great Britain with eight, including Farah and Rio 2016 golf gold medalist Justin Rose.
Farah became Great Britain's most successful track and field athlete when he defended his 5,000 meter and 10,000 meter Olympic titles in Rio de Janeiro. It also meant he became the first ever competitor to win both the events at two Olympics, after his successes at London 2012.
Spain's Nadal is universally recognized as one of the greatest tennis players of all time, having won every major tennis grand slam – including nine French open titles – as well as the men's singles gold medal at the 2008 Beijing Olympics.
The published records show that Farah received a Therapeutic Use Exemption (TUE) form to take triamcinolone, then in 2014 he was given permission to use three separate prohibited substances, including one by intravenous injection.
When asked in 2015 if he had ever received a TUE in the wake of a BBC Panorama program that investigated doping allegations toward his coach Alberto Salazar, Farah specifically stated he has received just one, when he collapsed in a Utah apartment a year prior.
"Yes, I have. One TUE and that was when I was in Park City and I collapsed on the floor and I was taken to hospital and I was taken in the ambulance and I was put on the drip. There was only one," Farah said.
Nadal was issued two separate TUE certificates – in 2009 he was allowed to use the banned drug betamethasone, and then in 2012 he received further clearance to take corticotrophins.
Justin Rose's record shows he received a TUE just this year for the use of prednisolone.
WADA has confirmed the authenticity of the fresh documents unveiled by the hackers.
"The World Anti-Doping Agency (WADA) confirms that, again today, the cyber hacker Group 'Fancy Bear' released a batch of confidential athlete data on their website, which they illegally obtained from a Rio 2016 Olympic Games account of WADA's Anti-Doping Administration and Management System (ADAMS)."
The Fancy Bears announced themselves on Tuesday September 13, when they published the first batch of WADA documents that included medical tests of tennis superstars Serena and Venus Williams, along with Rio Olympic gold medalist gymnast Simone Biles.
READ MORE: Top US athletes deny cheating after hackers show usage of banned substances
The group then published new leaks every two days, with lists coming out on September 15 and 17. Those lists also included high-profile names such as British cyclist Sir Bradley Wiggins and boxer Nicola Adams. Both have won multiple Olympic gold medals.
You can share this story on social media: