FIA launches investigation after cars narrowly avoid hitting marshal at Singapore Grand Prix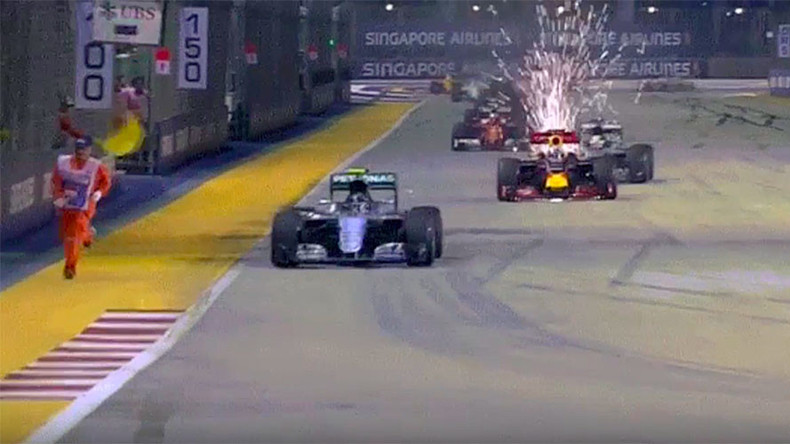 The governing body of Formula One has launched an investigation into an incident that saw Sunday's Singapore Grand Prix restarted with a marshal still on the racetrack.
The International Automobile Federation (FIA) will examine footage from the start of Lap 3 after the Safety Car pulled into the pits to allow the race to resume.
Force India driver Nico Hülkenberg's crash into the pitwall on the first lap saw the safety car deployed, with marshals quickly on the scene to remove debris from the track.
As the drivers were given the signal to restart, a marshal was forced to sprint to safety towards the barriers as the field, led by Mercedes' Nico Rosberg, hurtled towards him.
"That was pretty hairy, for sure," Rosberg said. "I think just as we didn't expect the restart, he didn't either, I think, because the restart was somehow pretty abrupt.
"But he got out of the way just about in time so it was okay."
"We take this very seriously," an FIA spokesman added. "We're not trying to put the blame on single people.
"Everything will be done to ensure this does not happen again."
The marshal incident was the second year in a row that the Singapore race was disrupted by someone on the track.
In 2015, a 27-year-old British national was jailed for six weeks after strolling across the tarmac midway through the race.
Friday's practice session for this year's race also saw an unusual interloper, with Red Bull's Max Verstappen narrowly avoiding a giant lizard as the driver roared around the track.
The race itself saw Rosberg claim his eighth victory of the season by just 0.4 seconds from Red Bull driver Daniel Ricciardo.
Lewis Hamilton finished third and now trails Rosberg by eight points in the drivers' standings in the race for the title.