'We are fighting for right to hold a World Cup match in Chechnya' - Kadyrov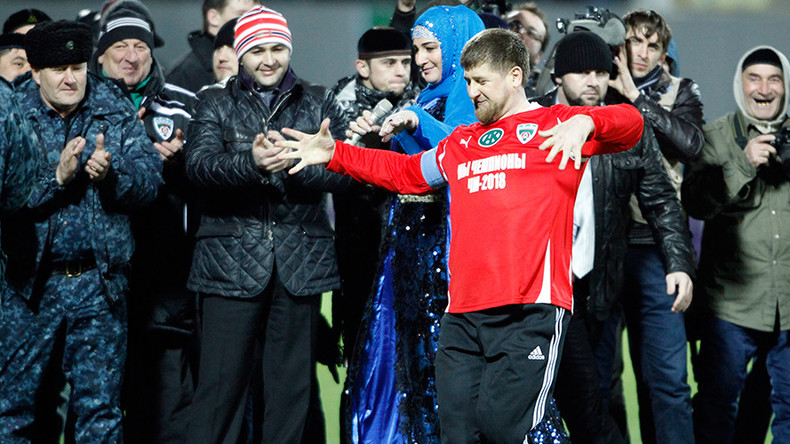 The Head of the Chechen Republic, Ramzan Kadyrov, has said that Chechnya is fighting for the right to host 'at least one' match of the 2018 World Cup, which will take place in Russia.
"[Russian Sport Minister Vitaly] Mutko is in a difficult position regarding this subject. I spoke with him about it. There are still chances, we will fight for the right to have at the least one match to take place in Chechnya," Kadyrov said, as reported by TASS.
Kadyrov already has strong ties to football; he holds the position of chairman of the Chechen club Terek Grozny, which plays in the Russian Premier League. The club, which hails from the Chechen capital Grozny, plays its home games in the 30,600 capacity Akhmat-Arena, which opened in May 2011.
It is well known that Kadyrov is a sports fan. In 2005, former world heavyweight boxing champion Mike Tyson travelled to the Republic as a guest of honor of Kadyrov. The two, who are both Muslims, were pictured sitting next to each other at a boxing tournament in honor of Kadyrov's father, Akhmad, who was assassinated the previous year.
This year, after the death of another fellow Muslim and former world heavyweight champion, Muhammad Ali, Kadyrov declared that a gym and a street in Chechnya would be named after the deceased fighter.
READ MORE: 'Boxing gym & street to be named after Muhammad Ali in Grozny' – Chechen leader Ramzan Kadyrov

The 2018 World Cup will take place from June 14 to July 15, at 12 stadiums located in 11 different Russian cities and towns. They include: Moscow, St. Petersburg, Kazan, Nizhny Novgorod, Saransk, Kaliningrad, Ekaterinburg, Samara, Sochi and Rostov-on-Don.
A noticeable exception from the list of host cities was Krasnodar, which is home to two Russian Premier League teams – FC Kuban Krasnodar and FC Krasnodar. There is also a modern stadium currently under construction in the city.