Chinese Red Star scores 6 goals to win in first KHL home game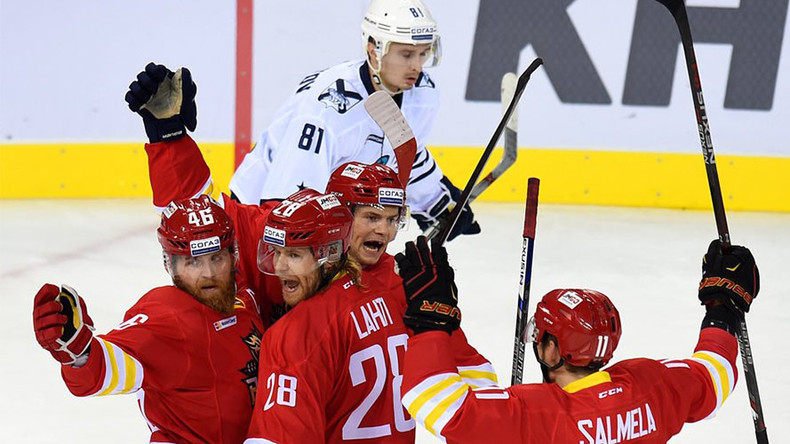 China's Kunlun Red Star, the newest addition to the KHL, delivered an entertaining 6-3 victory for the sold-out crowd in its first ever home game in Beijing, beating Admiral from Vladivostok.
Four days prior to the home game, Red Star was also victorious against Amur, beating the Tigers 1:2 in Khabarovsk to make a promising start to life in the KHL.
READ MORE: Chinese team Red Star wins first KHL game
Speaking at the press conference after the game with Amur, head coach Vladimir Yurzinov Jr said: "We are a Beijing team. We are looking to make a fan base [in Beijing]. We will work hard for it."
While it remains to be seen how the Chinese audience will react to the new and relatively exotic sport for the country, the first home game of the newly-formed team attracted 8,000 spectators, surprising organizers who sold out all the tickets for the game.
Although Red Star's home arena, LeSports Center, can host 14,000 spectators, organizers reduced the number of tickets for the first game over fears of low attendance – which turned out to be a wholly unnecessary move.
Red Star players didn't hesitate to deliver a show to their fans, opening the score just four minutes into the game. Finnish defensemen Anssi Salmela sent the puck behind Admiral's goalie Igor Bobkov with a sniper wrist shot.
Admiral's Tkachyov Vladimir evened the score 1-1 in the middle of the first period.
But Red Star players crashed Admiral's net four more times to make it 5-1 by the seventh minute of the second period.
Dmitry Sayustov scored twice for Admiral to cut the gap to 5-3, but Salmela, who opened the scoring in the game, netted one more puck to seal the deal for Red Star 6-3 in the historic game in Beijing.
The KHL's first Chinese team is formed by a mix of Russian, European and North American skaters, and only includes five Chinese players at the moment. The team was set up as a vehicle to promote and popularize ice-hockey in a country mostly famous for its gymnastic and track and field athletes.
Speaking at the opening ceremony before the game, KHL president Dmitry Chernyshenko said: "We are delighted that this cooperation between the KHL and China is taking place to seriously develop ice-hockey here.
"The country's leader Xi Jinping said that soon 300 million Chinese citizens will take to the ice on skates. It is a huge step towards producing hockey stars in China, which will instill pride in the country and encourage children to get involved in our favorite sport."