'You are my son': Diego Maradona's love child joins family in Buenos Aires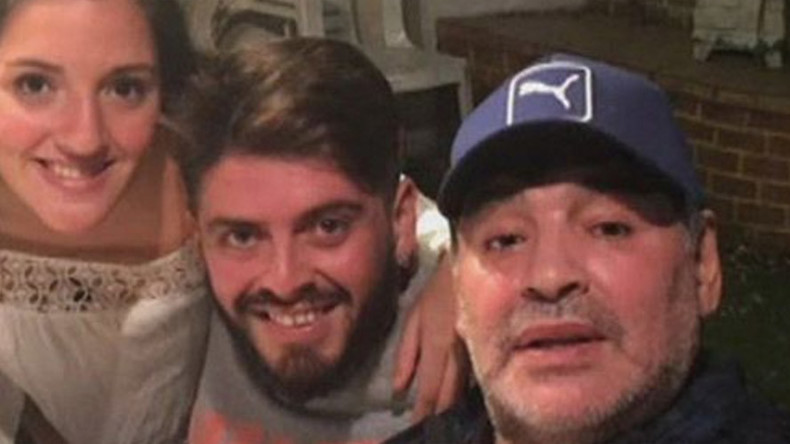 Argentine World Cup winner Diego Maradona has accepted his love child son, Diego Jr., into the family home in Buenos Aires after years of denying he was his biological father.
Maradona, who won the World Cup as captain of Argentina in 1986 and is controversially remembered for his "hand of God" goal in the tournament against England, posed for pictures with 29-year-old Diego Maradona Jr and told reporters: "I love him a lot and he's very like me."
Born in September 1986, Diego Jr was conceived through an extramarital affair during his father's seven-year spell playing in Italy for S.S.C. Napoli in the 1980s and early 1990s.
Despite constant pleas from Diego Jr's mother, Maradona, 55, snubbed his paternal duty for years and repeatedly refused to take a DNA test.
Diego Jr had flown to Argentina to take part in the nation's Strictly Come Dancing competition and the two met at a dinner organized by Diego Sr's current girlfriend. The gathering was the first time father and son had met since 2003, when Diego Jr was participating in a golf tournament.
In a post to his Twitter page in his native Italian, Diego Jr described the moment the two met again with a picture of his father planting a kiss on his cheek.
"An incredible feeling! We waited 30 years and it was just that we were to take this joy!" Maradona Jr said, who has a striking likeness to his father, and has even posted picture from his youth in a Napoli kit, just like his famous father.
"We've spoken on the phone and exchanged WhatsApp messages and now we're in contact I'm hoping we can meet soon," Diego Jr said, as reported in The Telegraph.
Also at the family dinner was Maradona Sr's daughter Jana, 20, who has the same back story as her half-brother: despite her mother's pleas and court battles, Diego refused to give a DNA test for years.
READ MORE: Maradona receives letter from Castro
Upon meeting again, Diego Jr and Sr posed for pictures outside the family home in Buenos Aires and told him in front of reporters "You are my son."
As well as Jana and Diego Jr, Maradona has two daughters by ex-wife Claudia Villafane, Dalma, 29, and Giannina, 27, and a three-year-old son called Diego Fernando by former lover Veronica Ojeda.
Diego Sr began his career at Argentinos Juniors before going on to play for Boca Juniors, Barcelona and Napoli. Maradona has notably struggled with drug addiction during and after his playing career, which became most apparent when he celebrated wildly in front of the cameras after scoring a wondergoal against Greece at the 1994 World Cup finals.