'Fidel doing very well': Maradona receives letter from Castro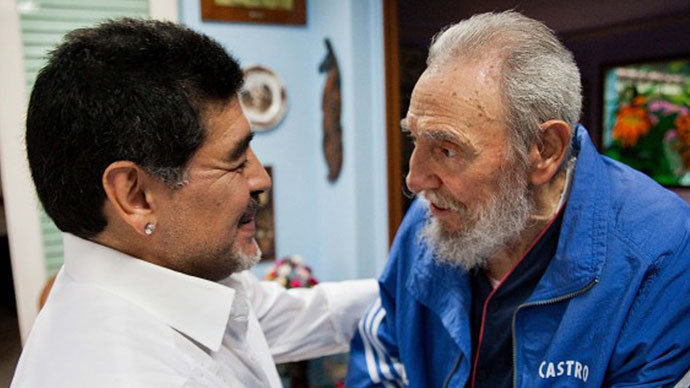 Cuban leader Fidel Castro has sent a letter to his old friend, Argentinian football legend Diego Maradona, local media reported. The four-page letter appeared to disprove rumors of Castro's death, which had been circulating for months.
Photos of Maradona with a letter signed by Castro appeared on Telesur state television on Sunday, AP reported.
RT @pvillegas_tlSUR | "Maradona receives a letter from the Comandante" #FidelsAlive#FidelVive" pic.twitter.com/sgJLBR5Ep2

— teleSUR English (@telesurenglish) January 12, 2015
"Fidel is doing very well," Maradona said, demonstrating the letter, as cited by Reuters. "Here's the signature ... I'm showing it to you so you can show it to the world."
READ MORE: Alternative Nobel: Fidel Castro wins China's Confucius Peace Prize
Although the letter's details were not discussed, Maradona revealed that the letter discusses global oil consumption, the release of three Cuban intelligence agents by the US last month and a recent summit of the leftist ALBA bloc of Latin American countries.
Fidel Castro finished his letter with the words "Un fuerte abrazo maestro" ("A strong teacher's embrace"), Radio Programas del Peru TV-network reported.
Aquí la firma del Comandante en la carta que envió a Maradona hace minutos. #FidelVivepic.twitter.com/hkeWY5Tb8s

— Patricia Villegas (@pvillegas_tlSUR) January 12, 2015
#MinutoAMinuto: Carta del Comandante Fidel a Maradona #FidelVivehttp://t.co/x3tPHB2gtipic.twitter.com/QW1Ijz0pTr

— teleSUR TV (@teleSURtv) January 13, 2015
In Cuba, Maradona was filming two episodes of a TV show he hosts, "De Zurda." As he was leaving the country, he told reporters, "I'm very happy to know he's well," referring to Fidel Castro.
According to TASS news agency, Telesur's journalist said Fidel Castro, 88, had apparently watched the TV show, which prompted him to write a letter to Maradona, regarded by many as the greatest football player of all time.
READ MORE: Cuba to stand by its communist principles, Castro says
Cuban revolutionary and ex-president Castro stepped down in 2006, delegating his duties to his brother Raul, due to serious health problems.
He hasn't appeared in public for over a year, triggering recent rumors of his death on social media, as he failed to comment on the full restoration of US-Cuban diplomatic relations on December 17.
The Telesur network is funded by Venezuela, Cuba and other governments in Latin America. With its headquarters located in Venezuela, its main aim is the integration of the countries of Latin America.
You can share this story on social media: