Dagestan governor presents horse to 'Russian Tank' Olympic gold medalist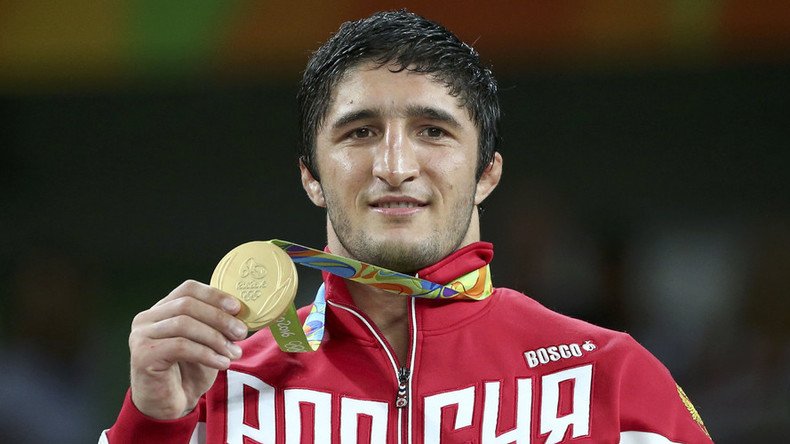 Whilst most athletes receive prize money for their Olympic achievements, Dagestan's Abdulrashid Sadulaev – the men's freestyle wrestling 86kg category gold medalist – has been rewarded with his very own horse.
Ramazan Abdulatipov, the governor of Sadulaev's local region, Dagestan, gave the steed to the 20-year-old after he claimed gold at the Rio 2016 Olympic Games by defeating Selim Yasar of Turkey 5:0 in the final.
"Ramazan Abdulatipov has decided to gift Abdulrashid Sadulaev the horse but there will also be a financial reward," the press officer for the Dagestani government said in a statement.
READ MORE: Russia finishes 4th in Olympics medal table despite track & field ban
The Akhal-Teke horse is native to Turkmenistan and has a reputation for having speed, endurance and intelligence. It is notably never cross-bred.
Such horses have high value in Dagestan, and the shiny coat of the Akhal-Teke has led to them being known as 'Golden Horses' – an appropriate gift for an Olympic gold medallist.
READ MORE: Wrestling and boxing bring Russia 2 last medals at Rio Olympics
Sadulaev, known as 'the Russian Tank', has received worldwide attention following his win, with Sports Illustrated and UFC champion Daniel Cormier among high-profile names to pay homage to the Charodsinky native. Some have gone as far as to name him "the best wrestler in the world."
As well as becoming the Olympic champion this summer, Sadulaev is also a two-time world champion, having claimed gold at the World Championships in 2014 and 2015.
You can share this story on social media: