US goalkeeper Solo banned for 6 months for calling Sweden 'bunch of cowards'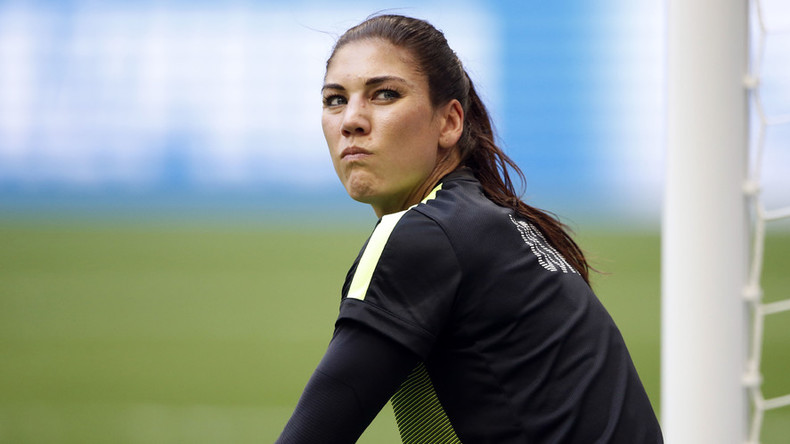 United States women's soccer goalkeeper Hope Solo has been banned from playing for the national side for six months for calling the Swedish team "a bunch of cowards" at the Olympic Games in Rio.
Solo's controversial comments followed Sweden's 5-4 penalty shootout victory at the quarterfinal stage of the tournament in Brazil.
US Soccer president Sunil Gulati condemned Solo's behavior, saying her comments were "unacceptable and do not meet the standard of conduct we require from our national team players."
"Beyond the athletic arena, and beyond the results, the Olympics celebrate and represent the ideals of fair play and respect," Gulati said.
"We expect all of our representatives to honor those principles, with no exceptions."
The suspension could bring an end to the 35-year-old's international career, which has included one World Cup success and two Olympic gold medals.
Solo hit back at the ban with a defiant message on Twitter.
Solo, who has seen controversy throughout her career, still has domestic violence charges hanging over her dating back to June 2014.
She was charged with two counts of fourth-degree assault in which she allegedly beat up her sister and then-17-year-old nephew in Kirkland.
The case was initially thrown out of municipal court on procedural grounds, but prosecutors appealed and the charges were reinstated last October.
She took her case to the state appeals court in June in a bid to avoid trial, but her application was rejected.
READ MORE: Top US female soccer stars file wage discrimination complaint against USSF
Solo also found herself in hot water back in 2007, after she complained about being benched in favor of veteran goalkeeper Briana Scurry during the World Cup.
Coach Greg Ryan was blasted by Solo for making "the wrong decision," but her teammates took exception to the comments and summoned her to a meeting.
She was forced to apologize, but the squad said she wasn't sincere enough and refused to allow her to play in the third-place game.
However, Solo was reinstated as first-choice goalkeeper the following year as the US claimed gold at the Beijing Olympics.