Wa-hoo! Japan's PM Abe morphs into Super Mario for Olympic curtain closer (VIDEO)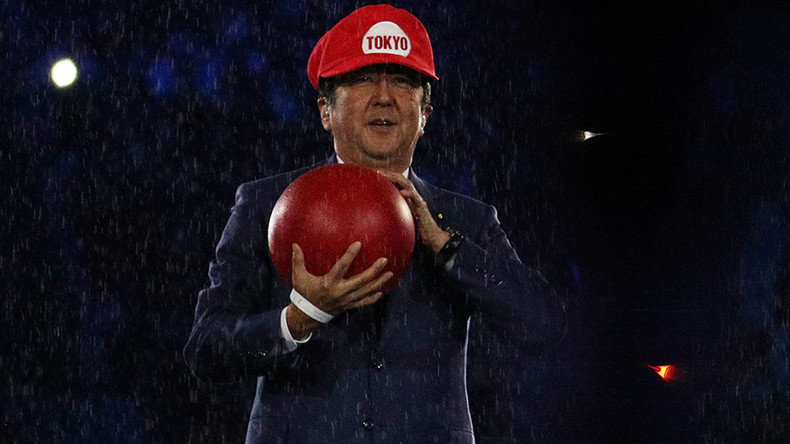 It seems Japanese PM Shinzo Abe's alter ego may be that of a turtle shell-dodging, shapeshifting Italian plumber.
As the curtain dropped on this summer's Olympic Games in Rio, it was time for the Land of the Rising Sun to take up the mantel and prepare to host the event in four years' time.
Watched by billions of viewers, Sunday's carnival-themed closing ceremony in Rio de Janeiro included a spectacular fireworks display.
But it was the appearance of Japanese PM Shinzo Abe dressed as computer game character Super Mario that appears to have people talking.
Shinzo Abe just popped out of a Mario tube at the Rio Olympics. What a time to be alive.

— Matt Ford (@fordm) August 22, 2016
A video showcase of Tokyo as the next Olympic destination briefly featured a number of the country's star athletes, but also curiously portrayed Japanese PM Shinzo Abe as the popular Nintendo mascot.
The two-minute 2020 Tokyo Olympic promo features Abe complaining about being late for the Brazilian closing event.
Cue the surprise Mario morph and the politician dropping triumphantly through a famous green warp pipe straight into the Maracana Stadium.
Japanese company Nintendo first featured Super Mario in one of their games in the 1980s.
The Italian-American plumber and his brother Luigi have since fought a whole host of Mushroom Kingdom weird creatures in hundreds of platform games, even turning up in their own 1993 live-action box office flop, Super Mario Bros.