Canadian journalist Tewksbury calls Isinbayeva 'doped' before deleting tweet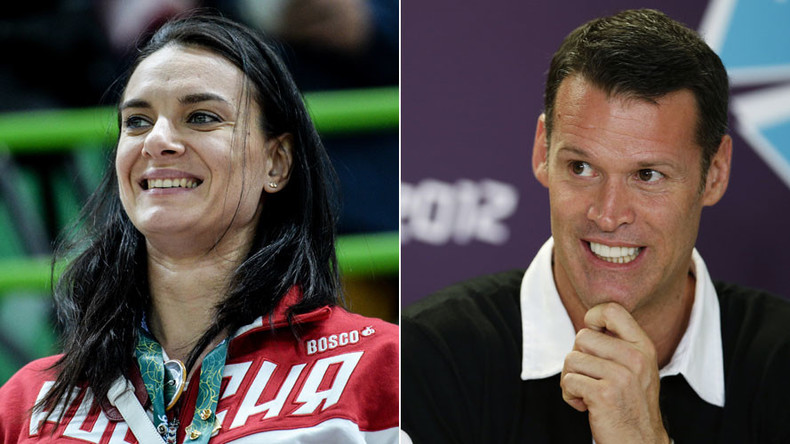 Canadian journalist and former Olympian swimmer Mark Tewksbury has slammed Yelena Isinbayeva on Twitter, calling the two-time Olympic pole vault champion a "Doped Russian" before deleting his comments.

On Thursday, Isinbayeva was elected to the International Olympic Committee (IOC) Athletes' Commission – a body which serves as an important link between competitors and Games organizers and defends the interests of athletes.
Tewksbury, who won gold in the men's 100m backstroke event at the 1992 Atlanta games and is currently employed as an announcer on the Canadian state network CBC Sports, tweeted his opposition to the decision Friday.
READ MORE: Barred from Rio Games, Isinbayeva wins seat on IOC athletes' commission
In the tweets, which appeared early morning on August 19, Tewksbury said he was "disgusted former doping athletes are represented on IOC Commission", though Isinbayeva – who participated in three Olympic Games – never had a positive doping test in her entire sporting career.
He also mocked IOC president Thomas Bach's comments that "Athletes are at the heart of Olympic Games."
Tewksbury quickly deleted the tweets, but other tweets made by the presenter alleging that the election was "rigged" remain.
Earlier today, Tewksbury also tweeted in relation to Isinbayeva's election, labelling the three-time world champion and current world record holder as "excluded," from the Olympics, with a link to an article from The Straits Times.
Isinbayeva was barred from competition at the Rio 2016 Olympics per the ruling of the International Association of Athletics Federations (IAAF), which prohibited the entire Russian track and field team from the Games in the wake of the alleged state-run doping scandal. The only exclusion was made for long jumper Darya Klishina, who lives and trains in the United States.