Controversial former FIFA president Joao Havelange dies at age 100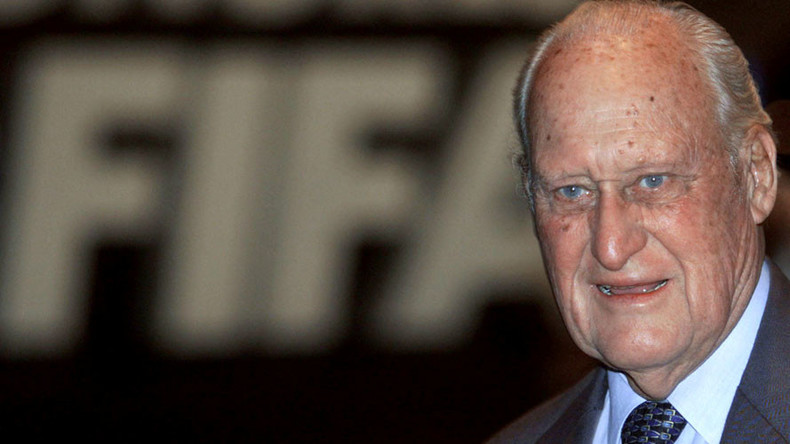 Former FIFA president Joao Havelange has died at the age of 100. Havelange oversaw massive growth in soccer's popularity by building the governing body's global brand. He was, however, involved in a number of multi-million dollar bribery scandals.
The Brazilian passed away Tuesday at Hospital Samaritano in Rio de Janeiro. It's reported he had been suffering from respiratory problems in recent months.
Havelange was the first non-European to head FIFA and is the man responsible for turning the World Cup into the multi-billion dollar enterprise it is today after expanding it from 16 teams to 32.
In his 24 years as president of the federation, he paved the way for the Confederations Cup, Women's World Cup and a number of underage tournaments.
He oversaw the increase in national soccer federations from 142 to 204. FIFA's headquarters in Zurich, Switzerland saw significant growth under his leadership too, going from 12 staff members in 1974 to more than 120 today.
A former Olympic swimmer and water polo player for Brazil, he was succeeded as FIFA president in 1998, when his protégé Sepp Blatter was elected. He was, however, appointed the body's honorary president at this stage.
A number of controversies, however, marred Havelange's legacy.
He was described in a 2013 report by FIFA ethics court judge Joachim Eckert as being "morally and ethically reproachable" after it emerged he and his son-in-law Ricardo Teixeira, and a number of other top Fifa officials, had received millions of dollars in bribes from the Swiss marketing agency International Sport and Leisure to retain the exclusive rights to market FIFA tournaments.
Havelange never received any punishment for this, however, and was allowed to resign from his position as honorary president in 2013.
He also resigned from the International Olympic Committee in December 2011 after 48 years on similar grounds. His resignation came just days before he was about to be suspended from the IOC for reportedly taking $1 million in bribes.
Rio's Engenhao Stadium, one of the venues playing host to a number of events for the 2016 Olympics, was named after him. It is now known as the Estádio Olímpico Joao Havelange.