'What did she ever do to anyone?' Gabby Douglas's mum hits out at bullies as gymnast fails to medal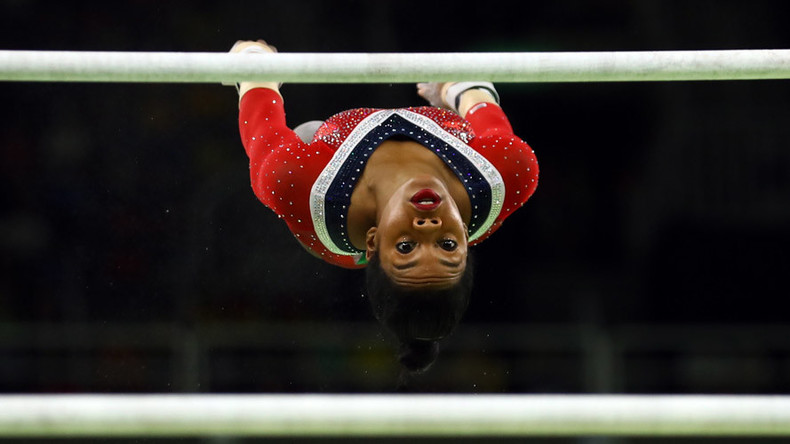 The mother of US gymnast Gabby Douglas says her daughter has been badly affected by a torrent of online criticism for her demeanor and alleged lack of patriotism during the Rio Games. Douglas came only seventh in what is likely to be her last Olympic event.
"She's had to deal with people criticizing her hair, or people accusing her of bleaching her skin. They said she had breast enhancements, they said she wasn't smiling enough, she's unpatriotic. Then it went to not supporting your team mates. Now you're 'Crabby Gabby'," Natalie Hawkins, mother of the 20-year-old, told Reuters.
"You name it and she got trampled. What did she ever do to anyone?"
Despite achieving top marks in the heats, Douglas did not manage a podium place in Sunday night's uneven bars finals, after making a serious mistake in one of her routines.
Many online could barely hide their glee.
Gabby's bizarre transformation from hero to heel began earlier this week. She was the first African-American in history to win an individual gold in gymnastics, when she became the London 2012 All-Around champion.
But while on a winner's podium for the Team competition in Rio she was filmed seemingly clutching her gold medal instead of the heart, unlike the other US athletes.
"I don't think respecting your country or your flag boils down to whether you put your hand over your heart or not," Hawkins argued. "It's in your actions towards your country, how well are you abiding by its laws, how well are you helping your fellow citizens?"
"We grew up in the military community. My mum spent almost 30 years in the military, my dad's a two-time Vietnam vet. Because of that it was so insulting that they would accuse my daughter of being unpatriotic when we are so tied to the military family."
The damage limitation – and the inevitable apology from Douglas herself – came too late, and now every aspect of Douglas was fair game, while her place as the US gymnastics media and people's darling was usurped by Simone Biles.
Particular focus was on her lack of "joy" and inability to share in the happiness of her teammates' achievements.
While she is young by the standards of most other Olympic sports, Douglas, who had a financially insecure upbringing, is one of the older artistic gymnasts competing in Rio, and is expected to retire after the Games (indeed, she already did so once, following her two golds in London).
As audiences realize that they will not see her in a USA leotard ever again, public opinion could yet swing back again in her favor, though she has not been short of defenders even in the past week.