REVEALED: Ethiopian 'whale' swimmer is son of swimming federation boss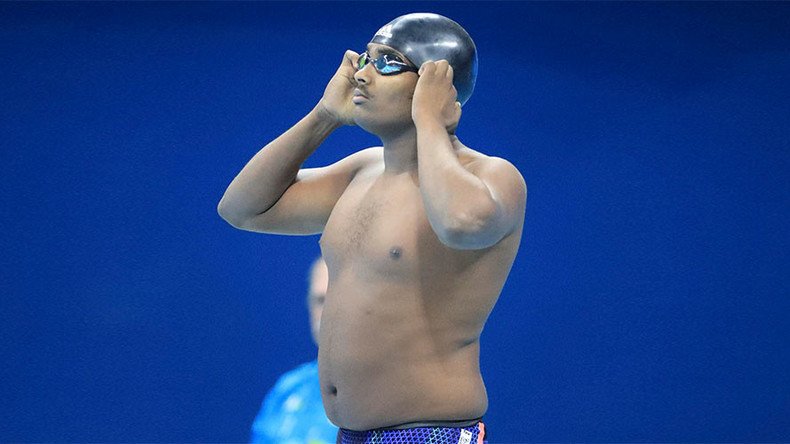 Olympic swimmer Robel Kiros Habte gained internet fame for his portly build and agonizingly slow qualifying time.
Habte finished dead last from 59 swimmers in the men's 100m freestyle qualifying, and a huge 17 seconds behind the winner in his three-man swim sprint, posting a time of 64.95 seconds.
The 24-year-old college student's performance has split opinion online, with some affectionately dubbing him "The Whale" due to his generously rounded stomach in a pool of chiseled abs, and others insisting he should be in better shape as an Olympic athlete so as not to "embarrass" his nation.
Now the internet storm is likely to be cranked up a few notches, with news surfacing that Habte is the son of Ethiopia Swimming Federation boss Kiros Habte.
Tipping the scales at 82kgs, Robel blamed his portly form on a car accident which sidelined him for two months and claimed his inability to train forced him to balloon in weight to 120kg.
He also said his preparations had been hindered by the lack of an Olympic-size swimming pool in his landlocked homeland, which is famed for its long-distance runners.
However, some of his compatriots believe that Robel is a symbol of corruption in the Ethiopian sports system.
"Sad that we have so many Robels in the system and it's about time to realize that is why people are so angry and frustrated," Seble T said on Facebook.
Some tweeted condemning Robel for embarrassing Ethiopia and expressed frustration at him being chosen as the country's flag bearer despite there being more distinguished athletes in the team.

Among them is Almaz Ayana, whom Ethiopians took to Twitter to congratulate after the long-distance runner broke the world record in the women's 10,000m event.
Some users believed that she had "exonerated" them following Robel's antics.
In response to reporters' questions, the elder Habte defended his son, saying: "We didn't want results. We just wanted to participate. That's all."
You can share this story on social media: